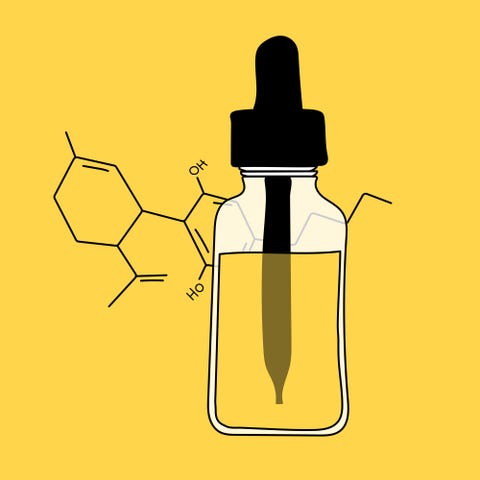 Compared to other popular products like CBD chocolates and lotions, tinctures have extremely high bioavailability, so they're very easy for the body to absorb. According to a National Center for Biotechnology Information study, CBD edibles, like gummies or cookies, have less bioavailability because the body has to process both the CBD and the ingredients used to make the treat.
While Epidiolex is a Schedule V drug (meaning it can be used to treat health issues), regular cannabis is a Schedule I substance. This means it doesn't have any accepted medical use. Despite this (not so) tiny detail, countless companies chose to ride on Epidiolex's coattails to bring a slew of CBD products to the marketplace.
Over time, the solvent used to make tinctures has changed, but the basic method has remained the same. "In traditional herbal remedies, tinctures were most often made with alcohol," says Jessie Kater, senior vice president of manufacturing at Curaleaf, a cannabis company lead by practitioners, pharmacists, and medical experts. "Today most cannabinoid tinctures use food grade plant-based oils and flavors as a solvent."
Should I use tinctures instead of other CBD products?
Before we get into the nitty-gritty, just a quick reminder: Like any new supplement, it's important to talk to your doctor before starting a CBD regime. CBD isn't ideal for everyone, and it can interact with certain medications, such as Warfarin. Make sure a medical professional knows exactly what you're taking and in what combination before you start experimenting with CBD in any form.
What they are, what they do, and what you should know before buying one.
First things first, what is CBD?
By now you've probably seen thousands of them, whether on specialty store shelves or while scrolling through your Instagram feed. Most are self-explanatory—like CBD lotion, which is obviously something you just rub on your skin, and gummies and cookies. Just pop them in your mouth and enjoy.
These days, there are plenty of tasty CBD tinctures on the market. Curaleaf, for example, sells vanilla, lavender-orange, and ginger-cinnamon flavored drops. However, if you aren't a huge fan of the taste, you can always mix your tincture into a drink, a smoothie, or your favorite food to make it more palatable.

An herbal tincture is made by using a mixture of alcohol and water to extract compounds from a plant—in this case, the cannabis plant.
CBD tinctures are generally made from high CBD strains of hemp, with 60 to 70 percent alcohol, and are primarily used to help relieve anxiety or ease pain. "Tinctures are convenient, have a long shelf life, and are absorbed easily when taken under the tongue. The dose can be adjusted by increasing or decreasing the number of drops taken," notes Low Dog.
How are CBD tinctures made and what are the benefits of using them?
Despite its relatively recent place in our collective consciousness, CBD has been at work delivering its calming agents as far back as the '80s by some estimates and the ancient world by others. With it, an almost endless menu of formulations has emerged—from capsules and oils to lotions and seltzer—each promising an even more effective dose of CBD than the last.
On that note, Hill cautions to know what you're getting: "If you're rubbing a CBD cream onto your skin, it's not going to be absorbed into your bloodstream," he says. "It can operate as a local anti-inflammatory, like other over-the-counter products… but CBD may not provide any more relief than those products, and it probably will be considerably more expensive."
So are there side effects?
According to Low Dog, a tincture may offer a broader range of compounds from hemp than an oil extraction. "Consumers who are alcohol-sensitive often prefer hemp oil over tincture. While both can be used topically, hemp oil is generally easier to apply and less irritating," she says.
CBD oil might help relieve stress, anxiety, seizures, drug withdrawal, and nerve pain. But taking higher doses doesn't always mean they'll have a stronger impact. Also, many studies on CBD have been done on animals, so it's hard to tell if these same effects will apply to people.
Common side effects include:
Don't drive or use heavy machinery when taking CBD oil since some of them contain THC. This is especially important when you first start treatment or use a new brand.
Interactions
One interesting piece of research is a 2012 study published in the Journal of Experimental Medicine. Researchers injected rats with chemicals that prompt inflammation. Then they gave the rats CBD.
To determine an exact dose of CBD, remember that each drop of oil equals 0.05 mL of fluid. This means that a 30-mL bottle of CBD oil will have about 600 drops. If the concentration of the tincture is 1,500 mg per mL, one drop would contain 2.5 mg of CBD (1,500 mg ÷ 600 drops = 2.5 mg).
Recap
However, at higher doses, too much activity at the receptor site can lead to the opposite effect. This would take away the helpful effects of CBD.
CBD oil might help people with substance use disorder, per a 2015 review in the journal Substance Abuse.