In the world of CBD oils, RSHO from Medical Marijuana Inc. is a respected standard, having been around since 2012. The RSHO Line of oils has several entries, each representing a different level of processing and formulation. We were anxious to try the RSHO Gold Label, as it is the most refined oil of the RSHO line, presumably resulting in higher CBD concentration and a mild taste. As you can see in our comments below, we did in fact find these qualities in the Gold.
The RSHO line of oils has an iconic standing in the CBD world, and the RSHO Gold delivers on the promise that users expect from this line. This highly-filtered, decarboxilated oil delivers on the CBD promise of mental and physical well-being. As with our experience with other RSHO products, the CBD calm and clear-headedness were evident in a very short time after ingestion, and we slept soundly after a small dose in the evenings.
The RSHO Gold is a very mild tasting oil. It is the most highly filtered RSHO oil, resulting in a lighter oil in both color and thickness, so it's easy to measure out and consume. The base is a medium chain triglyceride (MCT) oil derived from organic coconut and palm oils, resulting in a hint of coconut flavor along with the usual earthy, vegetation taste of hemp. The result is a mild, pleasant taste with little aftertaste.
Real Scientific Gold Liquid Hemp Oil 500mg Review
The price for the RSHO Blue oil was in the middle of our expected range – no drawback to the product, but no advantage either. Perhaps if the criterion was value rather than price, it would get a higher score, since the product is definitely a good value at this price.
It's no surprise that RSHO has iconic standing in the CBD world – this decarboxylated oil delivers on the CBD promise of mental and physical well-being. For us, as relatively healthy reviewers, the CBD calm and clear-headedness were evident in a very short time after ingestion. A small serving in the morning kept us on an even keel throughout the day, and a small dose at night provided a sound, deep sleep.
Effect (8.8 out of 10)
Our RSHO Gold contained 500 mg of CBD in a 2 oz. bottle. A 500 mg oil is a mid to lower range strength CBD oil. As such, it is not among the highest potency levels we have reviewed, but it is a common level that many CBD users prefer. Of course, the oil can be measured out to give you the potency you seek. In addition, the RSHO Gold is available in a 1000 mg liquid. Find the right potency for you by starting with a few drops and move up until you reach the desired effect.
Medical Marijuana Inc. and their various subsidiary brands utilize several delivery methods. A large syringe with serving size marks is popular, but we had the RSHO Gold in the common style of a bottle with an eye dropper. We gave some extra credit here because of the availability of RSHO Gold in other delivery styles, including oral syringe and capsules.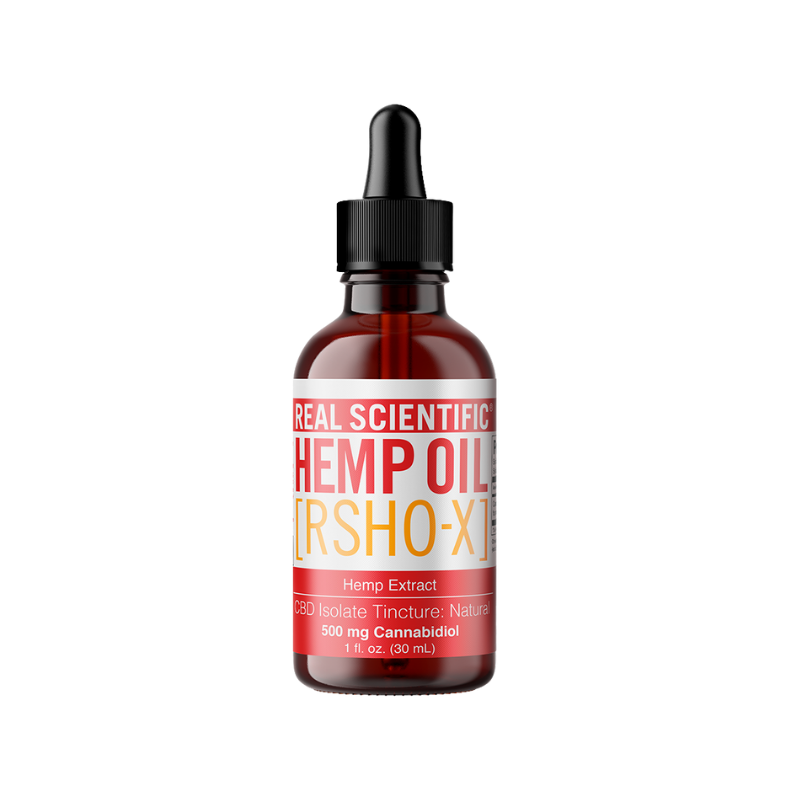 HempMeds gets its hemp from European farmers who are members of the Organization for Economic Cooperation and Development (OECD). The OECD program promotes good manufacturing practices among its member countries, and the hemp used by HempMeds has been certified by the EU Commission and the Natural Agricultural Ministries.
Here, we introduce the RSHO-X Liquid Hemp Oil — a product completely free from the psychoactive cannabinoid THC. Instead, this oil contains up to 5000 mg of pure CBD isolate per bottle.
The 8-oz bottle contains 5000 mg of CBD — which equates to 21 mg of CBD in each mL of oil. This is enough for three month's worth of CBD oil or, in some cases, a half year of supplementation.
You can buy three different bottle sizes — but the potencies are different for each. The large bottle is more than double the potency of the smaller bottle and has roughly three times more value. We're not sure why HempMeds decided to offer this product in this way, rather than offering a large and small bottle option for each potency of the oil.
Price/Value
The reports from these lab tests are shown in the Certificate of Analysis that HempMeds provides for the majority of its products. This way, you know exactly what you're buying before you even put your hands on the bottle.
Overall, this product has good value. The hemp the company uses to make its extracts is notably high quality, and there's a great deal of testing around all HempMeds products, including this Real Scientific Hemp Oil (RHSO-X).
HempMeds is one of the few American CBD companies to offer worldwide shipping. Of course, this means shipping rates and times can vary substantially depending on the amount you order, and where you live — but most people we've talked to that have ordered HempMeds internationally report the rates to be reasonable. You should expect shipping to take anywhere from one to two weeks to arrive.
CBD Potency 4/5
3 / 5
The lower potency, smaller bottle of this product is much lower in value — costing roughly three times the price in terms of the cost per milligram of CBD.