The EU certified hemp seeds being part of the CV Sciences supply chain meant that the company could now make high-quality full-spectrum CBD products for the consumers. The hemp is sourced from Holland and then processed into the various products PlusCBD offers to the consumers.
The Plus CBD brand sources its top quality hemp extract from EU supplies, ensuring you can always enjoy the benefits associated with CBD.
The roll-on contains vitamins E, fatty acids, cannabinoids, and terpenes, which are important to protect and beautify the skin. It is also within the affordable range.
Plus CBD Background
Besides improving your body's homeostasis feeling, you will also feel a sense of calm for better focusing, managing your daily stress triggers, maintaining healthy sleeping cycles, and recovering from exercise inflammation.
The Maximum Strength Formula includes non-GMO, plant-based, vegan, and gluten-free ingredients. Even if you are allergic to gluten products, such an assurance will make it easier for you to consider it.
There is no doubt you would love to use the gold drops for various CBD applications.
Plus CBD Drops
The company also ensures quality assurance is performed through extensive testing of the CBD oils before using them in different products.
The formula is also among the most potent options that the brand offers. It might be why the drops are among the expensive products you can buy from the Plus CBD Oil brand.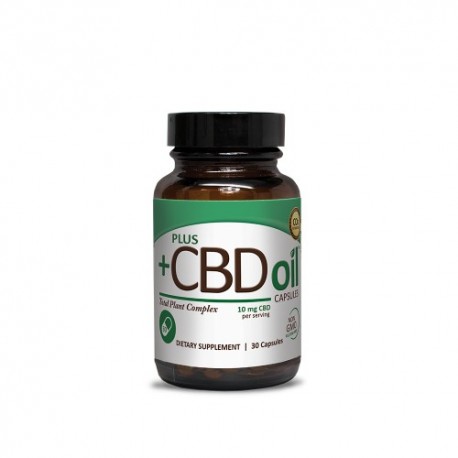 By buying this product you can collect up to 1 loyalty point. Your cart will total 1 loyalty point that can be converted into a voucher of $1.00 .
E-mail address of your friend * :
Name of your friend * :
Send to a friend
Tweet Share Google+ Pinterest
View larger
More info
Plus CBD Oil Capsules 10mg 30 CAP
Warning: Last items in stock!
Always from EU certified hemp seeds. Non-GMO. Vegetarian. Gluten-Free. Always third party tested. Try our CBD Oil softgels today to see why we're America's favorite hemp company.
Humans all share an endocannabinoid system. The reason we cultivated cannabis so early in our history is because it agrees with us. It's not only CBD and the minor cannabinoids. It's not only the terpenes that give the plant its rich smell and change how we interact with the cannabinoids. It's also because of the rich fatty acids, more abundant in the true agricultural hemp that we use. These fatty acids from the plant are used to produce its cannabinoids – and they're also used by our own brain and bodies to produce our own endocannabinoids.
CBD-rich full spectrum hemp extracts help balance our endocannabinoid system for health. Our CBD softgel capsules are an excellent dietary supplement that can be taken daily to support your overall health and well-being.
SUGGESTED USE
Our Gold Formula hemp extract is what makes these our most concentrated way to consume CBD-rich hemp extracts. It takes 10 kilograms of our regular extract, distilled down to produce just 3 kilograms of our concentrated Gold Formula extract. This is ideal for people who realize that they need higher levels of daily CBD for their health.
Filled with our Gold Formula full spectrum hemp extract, these award-winning CBD gel caps are our most concentrated way of taking CBD-rich hemp extracts.
BENEFITS OF PLUSCBD SOFTGELS
Some find that a CBD softgel is just the thing before bed – while others find it activating and never take it after a certain time of day. And some find that it doesn't change their sleep or energy in any way. There's no way to know which category you fall into without finding out what works for you.
Award winning Extra Strength Softgels are the industry standard and best-selling hemp CBD softgels for over 5 years. Our patented precision molecular distillation process concentrates the pure power of hemp directly into the most celebrated 15mg CBD softgel on earth.