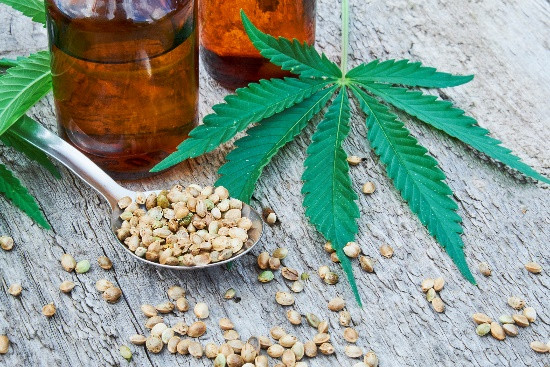 Side effects of CBD include nausea, fatigue and irritability. CBD can increase the level of blood thinning and other medicines in your blood by competing for the liver enzymes that break down these drugs. Grapefruit has a similar effect with certain medicines.
Outside of the US, the prescription drug Sativex, which uses CBD as an active ingredient, is approved for muscle spasticity associated with multiple sclerosis and for cancer pain. Within the US, Epidiolex is approved for certain types of epilepsy and tuberous sclerosis.
People taking high doses of CBD may show abnormalities in liver related blood tests. Many non-prescription drugs, such as acetaminophen (Tylenol), have this same effect. So, you should let your doctor know if you are regularly using CBD.
The evidence for cannabidiol health benefits
CBD is readily obtainable in most parts of the United States, though its exact legal status has been in flux. All 50 states have laws legalizing CBD with varying degrees of restriction. In December 2015, the FDA eased the regulatory requirements to allow researchers to conduct CBD trials. In 2018, the Farm Bill made hemp legal in the United States, making it virtually impossible to keep CBD illegal – that would be like making oranges legal, but keeping orange juice illegal.
Some CBD manufacturers have come under government scrutiny for wild, indefensible claims, such that CBD is a cure-all for cancer or COVID-19, which it is not. We need more research but CBD may prove to be a helpful, relatively non-toxic option for managing anxiety, insomnia, and chronic pain. Without sufficient high-quality evidence in human studies, we can't pinpoint effective doses, and because CBD currently is typically available as an unregulated supplement, it's hard to know exactly what you are getting.
How can CBD be taken?
Animal studies, and self-reports or research in humans, suggest CBD may also help with:
CBD has been touted for a wide variety of health issues, but the strongest scientific evidence is for its effectiveness in treating some of the cruelest childhood epilepsy syndromes, such as Dravet syndrome and Lennox-Gastaut syndrome (LGS), which typically don't respond to antiseizure medications. In numerous studies, CBD was able to reduce the number of seizures, and, in some cases, stop them altogether. Epidiolex, which contains CBD, is the first cannabis-derived medicine approved by the FDA for these conditions.
"Then we administer a drug, like pure CBD, or a placebo and then re-assess their pain responses and see how they change based on which substance was administered," said De Vita. Researchers then took it a step farther by manipulating the information given to participants about which substances they received.
De Vita, along with Syracuse Emeritus Psychology Professor Stephen Maisto, were uniquely prepared to answer that exact question. The pair, along with fellow lab member and doctoral candidate Dezarie Moskal, previously conducted the first systematic review and meta-analysis of experimental research examining the effects cannabinoid drugs on pain. As the first experimental pain trial to examine CBD, their study yielded consistent and noteworthy results. Among other findings, the data showed that CBD and expectancies for receiving CBD do not appear to reduce experimental pain intensity, but do make the pain feel less unpleasant.
"For science and the public at large the question remained, is the pain relief that CBD users claim to experience due to pharmacological effects or placebo effects," asked Martin De Vita, a researcher in the psychology department at Syracuse University's College of Arts and Sciences. "That's a fair question because we know that simply telling someone that a substance has the ability to relieve their pain can actually cause robust changes in their pain sensitivity. These are called expectancy effects."
"The data is exciting but pretty complex in that different pain measures responded differently to the drug effect, to the expectancy, or both the drug and expectancy combined — so we're still trying to figure out what is behind the differential data with different kinds of pain measures," said Maisto. "The next step is studying the mechanisms underlying these findings and figuring out why giving instructions or CBD itself causes certain reactions to a pain stimulus."
For example, whereas pain intensity reflects a "sensory" dimension of pain, unpleasantness represents an "affective," or emotional, aspect of pain. "If you think of pain as the noxious noise coming from a radio the volume can represent the intensity of the pain, while the station can represent the quality," said De Vita.