Once you have this cannabis massage oil made, you can make more awesome topical recipes.
You would choose either one depending on how strong you want your massage oil.
My personal favorite? The Ardent FX! Review the six most popular infusion machines here.
One way to have complete control over the accessibility and potency of your product is by formulating it yourself. As
Want To Make This Easier? Use A Machine!
Published: Apr 7, 2020 · Modified: Nov 11, 2021 by Emily Kyle · This post may contain affiliate links, as an Amazon Associate I earn from qualifying purchases.
Cannabis oils are made by extracting various cannabinoids, like CBD or THC, from the cannabis plant.
Not sure what your perfect dose is? Learn more here.
Cannabis-Infused Massage Oil With Concentrates
You can easily cut costs by following the recipes here, you simply need to gather all the materials needed.
I always say cannabis is a self-experiment, and testing many different recipes will help you achieve your preferred potency.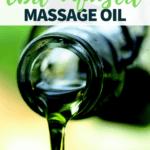 Choosing the right CBD oil for your skin is probably the most important thing once you decide to make CBD oil a part of your beauty routine!
Choosing a CBD oil to use in your massage oil
I personally prefer CBD oil that uses hemp seed oil as the base oil as it's great for the skin.
Where to buy CBD massage oil
CBD massage oil brings all the benefits of CBD to your skin while delivering a massage experience that is out of this world!