Ingredients: Organic Shea Butter, Organic Coconut Oil, Organic Beeswax, Organic Mango Butter, Organic Jojoba Oil*, Organic Olive Oil*, Organic Arnica Extract, Non-GMO Vitamin E Oil (Tocopherol), Organic Lavender Oil, Organic Sweet Orange Oil, Organic Chamomile Oil, Phytocannabinoid Rich CBD Hemp Oil
The addition of Chamomile to this CBD salve makes it great for use as an anti-inflammatory. Chamomile is also great for minor cuts, burns, and abrasions. Orange and lavender bring a wonderful scent to this CBD salve, but it's known that orange and lavender essential oils can be used as disinfectants and deodorizers.
The name says it all, and this salve has it all. The Healing Rose brings us this 2.25 ounce jar of Orange Lavender CBD Salve with Chamomile which contains a total of 150mg of CBD. Along with lavender, orange, and chamomile, organic coconut oil and shea butter are at the core of this salve along Arnica Montana, a special medicinal herb. Chamomile roman, sweet orange, lavender oil, and arnica introduce anti-inflammatory and analgesic properties along with a healthy dose of CBD. Clover Goft Shop also has our very own CBD salve with Arnica.
The Healing Rose's 150mg CBD Herbal Salve: Orange Lavender with Chamomile is for daily relief and recovery of all topical ailments. A topical CBD salve or muscle rub which also contains sweet orange, lavender oil, arnica montana, chamomile, shea butter, and coconut oil. The Healing Rose uses 98% high quality organic ingredients and is based in Vermont. The combination of all of these wonderful herbs in this salve make it a powerhouse of soothing pain relief and relaxation.
Orange Lavender & Chamomile Salve Uses
It feels amazing on your skin and smells wonderful. It has a wonderful Lavender scent, with a hint of sweet orange and chamomile. What's not to love? Full list of ingredients below.
This product may contain tree nuts. The FDA classifies Shea Nut Butter and Coconut Oil as tree nuts. If you have a tree nut allergy, consider talking to your doctor.
The Healing Rose 150mg CBD Orange Lavender Herbal Salve with Chamomile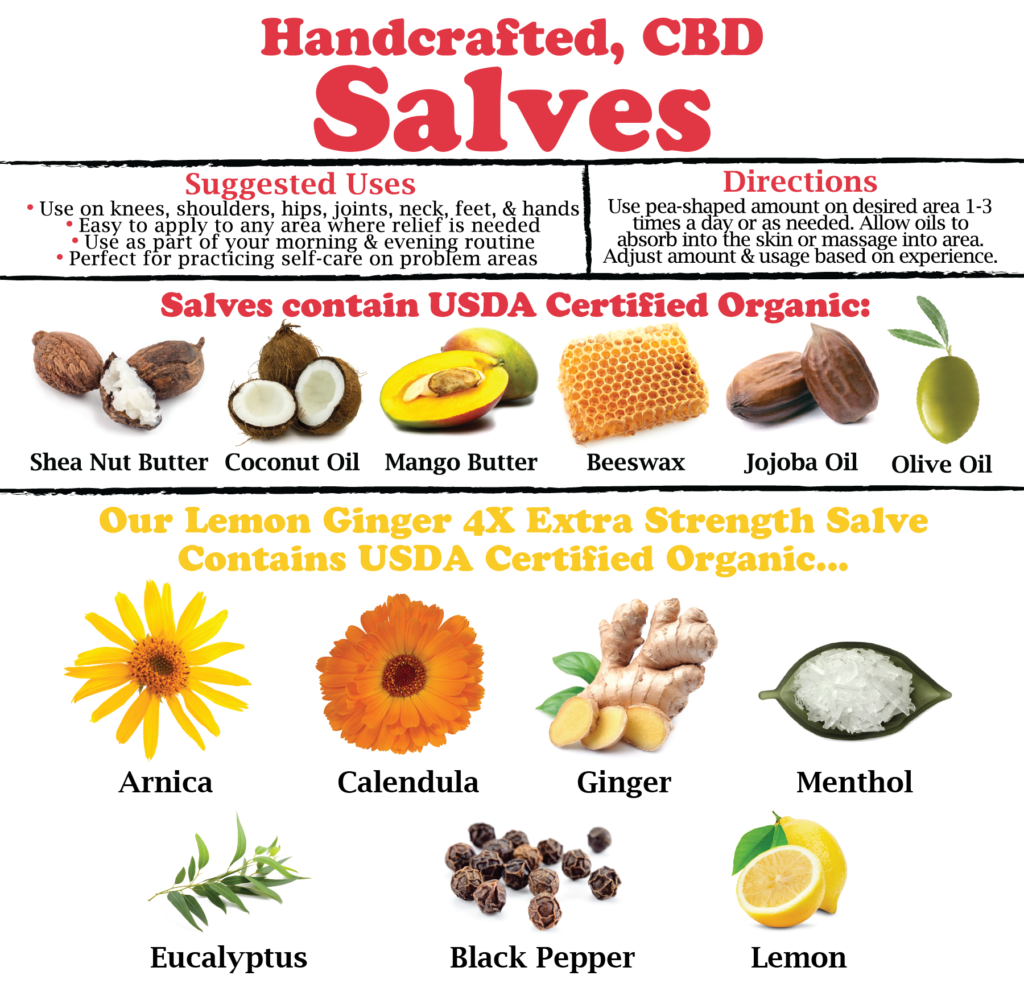 New Formula! 4X the Strength, Same Price!
Made with Only 15 Ingredients!
Now in a New Blue Glass Jar!
1. Organic Shea Butter
2. Organic Coconut Oil
3. Organic Beeswax
4. Organic Mango Butter
5. Organic Jojoba Oil*
6. Organic Olive Oil*
7. 1200mg CBD from Phytocannabinoid Rich Hemp Oil
8. Organic Arnica Extract
9. Organic Calendula Extract
10. Organic Menthol
11 . Non-GMO Vitamin E Oil
12. Organic Eucalyptus Globulus Oil
13. Organic Ginger Oil
14. Organic Black Pepper Oil
15. Organic Lemon Oil

Menthol offers some fantastic benefits. It's a natural oil derived from mint based plants like spearmint and peppermint – so it brings with it a refreshing, cooling sesnation. Most commonly used in toothpaste for that minty fresh taste, Menthol is also a popular ingredient in muscle rubs and healing salves thanks to its therapeutic properties. It's typically used for relief from aches, soreness, and inflammation.