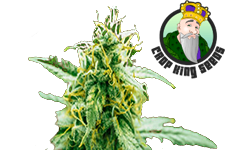 A strain can deliver amazing flowers, aroma, taste, and effects, but if it's a massive pain in the grow room, its popularity will remain pretty niche.
• >10% CBD
• Harvest: 8-10 Weeks
• Yield: 400-500g/㎡
Height:
Nowadays, science is aware of 100 different cannabinoids, but the two that garner the most attention are THC and CBD.
Adding to the user-friendliness of Harlequin seeds is the availability of both feminized and regular seeds. Not sure which to choose? Here's a quick summary to help you decide.
Grow Difficulty:
Remember, Harlequin is meant to give millions of medicinal patients access to potent cannabis-delivered relief. So, the Harlequin cannabis strain was selected for its ease of growth.
Sometimes fruity and sweet like a mango, other times more robust with notes of pine, Harlequin CBD's flavor and aroma profile is a total crowd pleaser. Because this is a photoperiod plant, meaning you'll need to manually make the switch from vegetative to flowering stage, our Harlequin CBD is considered an Intermediate strain, but it's easy enough for beginner growers.
A sativa-dominant hybrid (it features a 75/25 split), Harlequin CBD is some breeders manic dream come to life: the result of combining Colombian Gold and a Nepalese indica with Thai and Swiss landrace strains. What you get is a clear-headed high perfect for treating pain and anxiety. And because this plant almost always reliably develops CBD in a ratio of 5:2, any hallucinogenic effects associated with the THC are rendered null and void.
If you need to relax and focus your mind, and aren't looking for the euphoria common to regular strains, check out Harlequin CBD marijuana seeds. This sativa-dominant hybrid can relieve stress and inflammation, not to mention ease pain.
You think of harlequin as the joker of the pack, but Harlequin CBD marijuana seeds couldn't be any more serious.
Description
After a short flowering period of about 7-9 weeks, these Harlequin CBD feminized marijuana seeds will yield upwards of 550 beautiful grams of sweet relaxation.
So, What does the Harlequin feel like?
This feminized strain is 75% Sativa, and as a Sativa dominant strain, she will produce a deep evolving cerebral high. Harlequin seeds have a variable THC concentration. THC concentration varies seed-to-seed; some seeds contain 7% THC, and others hold up to 15% THC. The THC potency often determines the intensity of a high, but, for the most part, the effects remain similar throughout. It's like walking on a warm sandy beach with no care in the world. This is exactly what online users report about the Harlequin strain. As she is, Sativa dominant users can expect a profoundly cerebral and enchanting high which can uplift even the worst of moods. Gradually the effects of this weed strain change and evolve to something more relaxing and calming. The Harlequin can gently melt away pain, both physical or mental, leading to a state of deep meditative calm and happiness.
She is a strain that cannabis collectors desperately seek out, and it's no surprise why Harlequin seeds are a rare gem. The Harlequin marijuana strain is a hybrid feminized marijuana seed that shares a strong lineage with weed varieties such as the Colombian Gold, Thai Sativa, Nepali Indica, and Swiss Sativa. It's believed that Harlequin seeds is named after the classic Italian court jesters who often wore colorful and vivid patchwork clothing. Perhaps this is why she acquired the strain name 'Harlequin' as it's representative of her diverse and colorful genetic lineage.
Cannabis collectors in search of a dynamic flavor profile won't be disappointed with this strain. Breeders of this weed strain report that the Harlequin weed seeds produce dense buds that radiate a well-rounded earthy aroma. The aroma holds notes of wood and soil, with subtle notes of sweet vanilla. The flavor profile of the Harlequin strain remains nothing but mouthwatering. Her buds create a candied and zestful flavor with sharp elements of ripe mango, herbal tarragon, and citrus. The taste evolves with time, leaving a lingering sweetness on one's tongue.
What are the Reported Effects of the Harlequin Strain Seeds
Harlequin seeds never cease to impress. An online cultivators forum describes at full bloom; the Harlequin seed will flower beautiful leaves reminiscent of the iconic court jesters. The color scheme is wild and vibrant, with lavender purple, zesty yellow, and sage green. The buds from the Harlequin seeds are juicy and dense, making them very appealing to any collector. The round and juicy buds are covered in a delicate layer of orange hairs (pistils) and mosaiced with amber-colored trichomes.
Harlequin seeds are making their way across Seed-City in 2021. This deliciously rare hybrid has gained notoriety for her robust plants, mouthwatering flavor, and of course, her colorful name. Harlequin marijuana seeds are a hybrid feminized variety that's Sativa dominant. This weed strain tends to have a high CBD concentration balanced well with a moderate THC concentration. Reports mention that this plant's effects are nothing shy of perfection, which is a smooth balance between the ultimate euphoria coupled with some potent therapeutic effects.
One thing we must mention is that the Harlequin seeds tend to contain high amounts of CBD. For this reason, they have become a popular go-to strain for medical marijuana supporters. The high concentration of CBD tends to cancel out the potent psychoactive effects of THC. In many ways, it leaves a well-balanced high where users receive both an uplifting euphoria coupled with the many therapeutic effects of the strain. CBD from Harlequin seeds is said to relieve mild pains and aches, making joint pain the perfect choice. Other reported therapeutic effects notable to this marijuana strain include anti-inflammatory, anti-emesis, and anti-depressive effects.
Harlequin Weed Aroma and Flavour