Broken suppositories may be reheated in the shells in a resealable waterproof bag in warm water until melted and then reformed in a refrigerator. Occasional air bubbles in suppository are normal and do not indicate a loss of product.
If you are new to CBD, our beginners guide is an excellent starting place.
For rectal use only. Use following a bowel movement. Refrigerate before using. Use good hygiene and wash hands before and after use. To remove suppository, tear the plastic shell lengthwise beginning at the "V" shaped cut at the pointed end of the suppository. You may find it beneficial to apply a light coating of water lubricant to the suppository before insertion. Insert suppository past sphincter muscle. Try to wait 15 to 20 minutes before another bowel movement.
When suppositories are inserted into the body, the healing compounds within become absorbed by internal cellular walls and mucous membranes. This allows these compounds to spread quickly to nearby organs and rapidly enter into the bloodstream.
Why Choose Endoca Suppositories?
Endoca is considered one of the premier producers of top quality hemp oil in the world. The Endoca team has been growing hemp in Europe since 2010, and have always managed the hemp production process from seed to shelf. In 2020, they began utilizing US grown hemp in their CBD products, continuing to own their process from the hemp fields to the shelves in our storefront!
While likely not a first thought, or a hot topic of conversation, suppositories are an alternative to orally ingesting CBD. These Endoca CBD Suppositories 500mg are intended for someone who requires a high serving size of CBD and does not want to, or cannot, take CBD orally. Each suppository contains 50mg of CBD. They would not be considered a good fit for someone looking for low to moderate servings of CBD. For anyone who cannot use a traditional oral means of CBD administration, CBD suppositories can be a highly effective option with no additives or irritants.
Not the Endoca product that you were looking for? No worries, we have many more options here. Endoca is our most recommended brand for people living with consistent discomfort.
Directions to use Endoca Suppositories: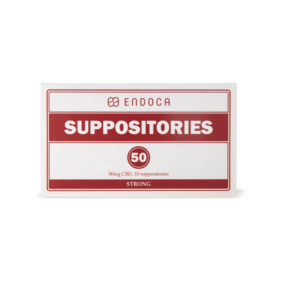 Although Endoca only sells one CBD suppository, its difficult to dock points here because CBD suppositories are relatively rare — we're happy that Endoca offers them at all.
Hemp Source 4/5
In this article, we'll examine Endoca CBD Suppositories so you can make an informed buyer's decision.
Product Variants
Suppositories also have an advantage over other CBD products because they bypass the digestive system which can destroy some of the CBD and delay the effects.