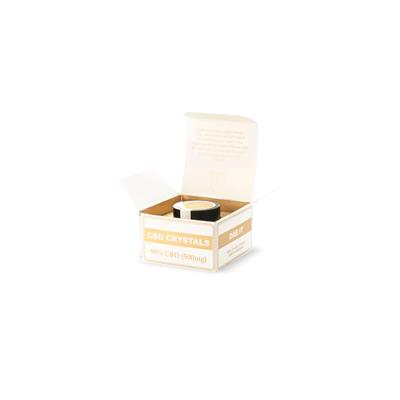 Cannabidiol Crystals (CBD) is the purest and purest form of the substance and is a 100% natural cannabidiol CBD extract. They are fully laboratory tested and are extracted from organic crops. CBD crystals can be consumed in 2 basic ways. You can add them to food or inhale them with the appropriate steamer. Discover their beneficial benefits today for your body and mind.
Endoca Cannabis Crystals 99% CBD
We live in a world where purity is valued and when it comes to CBD, this is no exception. That's why we offer our 99% Pure CBD Crystals to customers who are looking for maximum purity CBD. Why is a high purity CBD product desirable? Many people are looking for pure CBD to add to other products such as edibles, cosmetics or for vaping. CBD Crystals are perfect for all of these delivery methods and can even be easily absorbed under the tongue. CBD Crystals, sometimes known as CBD isolate, are extracted from the cannabis sativa plant, which is why they're also known as cannabis crystals. Like all our CBD products, the CBD used in our crystals comes from EU certified organic hemp using the state of the art Supercritical CO2 method. A second purification then takes place, separating the CBD from the other remaining phytonutrients until the desired purity is reached. For more information on how to make CBD Crystals, check out this video in which Endoca CEO Henry Vincenty reveals all. So if it's 99% pure CBD Crystal, what is in the remaining 1%? What we can say for sure is that there is absolutely no THC, the psychoactive part of the plant. But there are small amounts of the terpenes Myrcene, Limonene, Alpha & Beta -pinene, Linalool, B-caryophyllene, Caryophyllene oxide, Terpinolene, and Humulene. This is important because of what's known as the entourage effect – the special synergy between the different botanical substances in the plant that can augment the effect of CBD. However, the levels are low enough to make CBD Crystals an attractive solution for someone with a sensitivity to terpenes. If you are considering making your own bespoke CBD products, like CBD Vape oil or edibles, then CBD Crystals are a good option. You can even make your own CBD tinctures by dissolving CBD Crystals into a carrier oil, such as coconut oil. But ultimately, if you do decide to buy CBD Crystals, ensure that they have been extracted from organic hemp, come with lab tests to prove cannabinoid content and are made following Good Manufacturing Practice (GMP) standards. Endoca CBD Crystals contain 1/2g 500mg GMP grade 99% pure CBD and are extracted from the finest grade CBD-rich strains of Cannabis Sativa grown in the EU. We are proud of our CBD Crystals, believing them to be the purest CBD extract on the market, as they are solvent free and lab tested.
CBD Oil drops and capsules are not the only products that contain cannabidiol. In this category you can also find other products with CBD that are characterised by its high content. CBD pastes are generally thicker in texture and contain from 20% to 30% of cannabidiol. They are however administered in orally, the same way as CBD oil drops. CBD kief is a powder extract of resinous trichomes from hemp plant and contains 150mg of CBD. It perfect for mixing with other dry material. Another product is pure CBD isolate extract consisting of 98% CBD. This item is best used in vaporiser.
Disclaimer: All of our products are not medicine and are not intended to treat, cure or prevent any disease, ailments or conditions. Products have none or less than 0.2% THC content. Food supplements should be taken as part of a varied diet and healthy lifestyle. Always check with your GP before starting any new supplement programs.
Hemp chewing gum with 12mg CBD (sugar free)
12pcs per pack (17g)
Explore
© 2021 CBDStore.ie – All brands and logos are trademarks of their respective owners.
Hemp chewing gum with 18mg CBD (sugar free)
12pcs per pack (17g)
Contact us
Buy cannabidiol CBD oils, CBD vape oils, CBD skincare and natural hemp cosmetics, hemp tea or hemp edibles. Fast delivery from Ireland! The #1 CBD Store in Ireland.
Premium Milk Chocolate with 12mg CBD