Our mission is to provide the absolute best customer experience available in the cannabis industry. We have the largest selection around at everyday low prices.
Potency figures displayed on packages in photos will likely differ from actual products in store (test numbers vary by lot and fresh product arrives daily). We are more than happy to show you the labels and product picks before purchase. Just ask!
Online Orders: We typically hold online orders for 48 hours. No worries if you can't make it within that timeframe. If your order gets cancelled, feel free to re-submit and we'll have your products ready for you.
The terpenes and oils used in Dragon Balm mostly treat either headaches, pain, inflammation or a mix of these. Due to this, the combination of all of these ingredients causes profound relief for the body. Additionally, by pairing cold essences such as mint with warm essences such as clove, Dragon Balm achieves an icy hot sensation that penetrates deep into the skin.
Cajeput is an ingredient rich in turpentine that begs for a bit more introduction. This tree derivative treats headaches, toothaches, fungal infections, and joint pain. It pairs perfectly with camphor, which is likely effective in treating pain and irritation. After combining both with a THC and CBD medicated balm and you already may be in for great relief. Ceres takes it a step further however by including clove and mint in their mix.
Dragon Balm is produced by one of Washington's more innovative cannabis brands, Ceres. They go the extra mile to create cannabis products that have a serious focus on wellness. In addition to producing your typical flower, concentrates, cartridges, edibles, etc, they have a full lotion and balm line.
Massages are sexy, but touch goes further than excitement. Focused pressure on and handling of the body can undo years of tension. Skin benefits from more than touch however, as the human body has Endocannabinoid Receptors throughout the body.
What Do These Ingredients Potentially Do For The Consumer?
Finally, mint is rich in the familiar pinene and limonene. In medicinal settings, mint oil kills bacterial, soothe inflamed skin, and release muscle tension when massaged into the skin. Mint promotes easy breathing, calm moods, and deep relaxation.
Clove is another powerhouse ingredient with a history going back for centuries as a treatment for toothaches, stress, and coughs. Its nature is antimicrobial as well as antifungal, and there are many more aspects to the essence.
This infused topical contains 1:1 THC to CBD content and 175mg of both in 2oz of the Dragon Balm. However, this product isn't only a cannabinoid product. Ingredients such as the terpene camphor, a known numbing agent, are mixed into the balm to potentially provide a soothing experience cannabis users can enjoy. It also contains mint, which is a scent that is calming to a great number of people.
While the cannabis industry accepts the effects of cannabinoids, learning about how terpenes affect the human body can be a bit more complicated. However, to picture the complex formula of Dragon Balm, read below.
When gently massaged into the body, Dragon Balm may be a rich source of relief for tension, pain, and aches. It's a thick topical which goes a long way, so try it out here at Diamond Green for $20. Your body will thank you. This dragon slays all pains.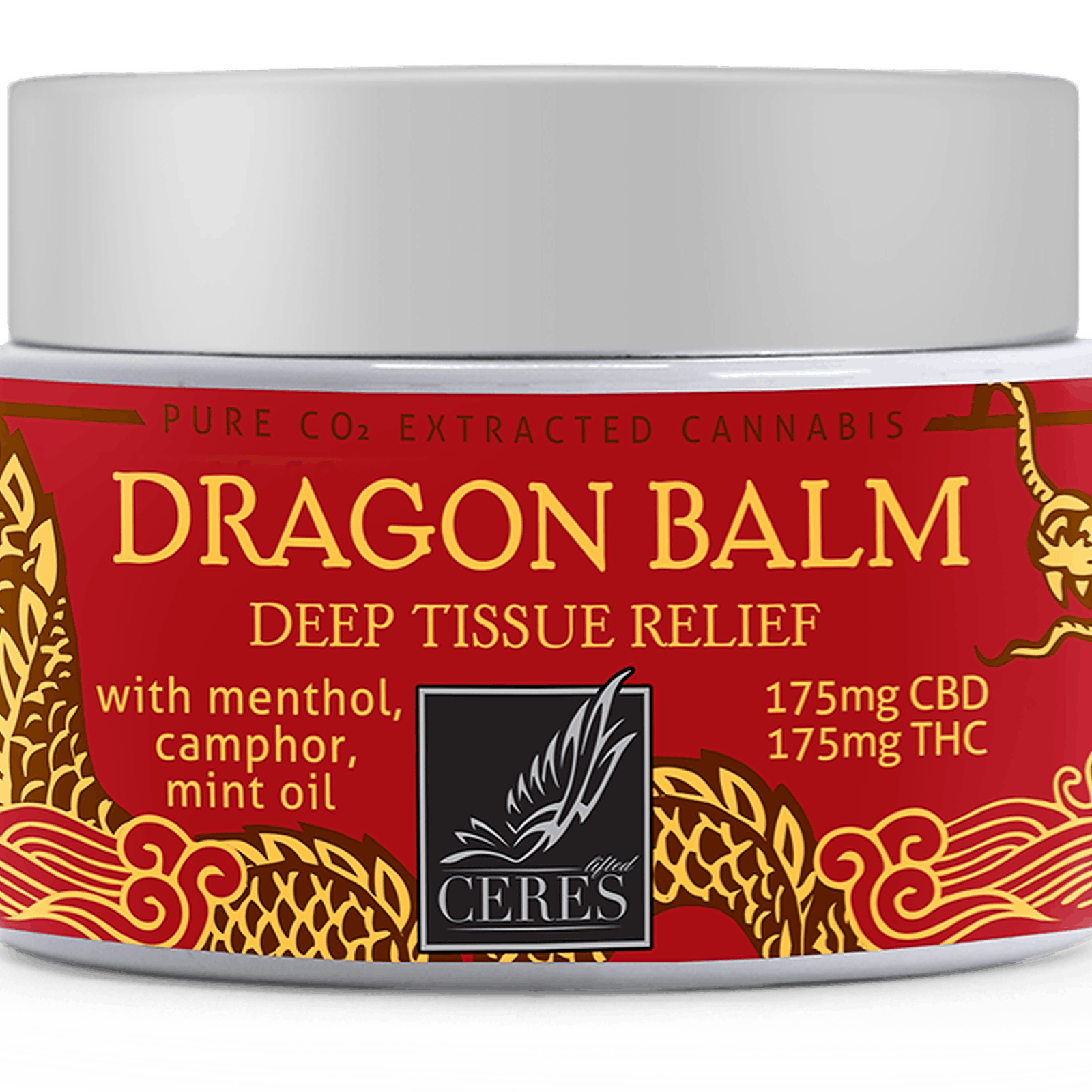 Get perks like local deals, new strain spotlights, and a free jar of CBD:THC gummies when you sign up ($59 value)!
Your discomfort is no match for our Dragon.This meticulous formulation combines cooling Menthol and numbing Camphor to distract the brain, acting in a beneficial way on the nerves that carry bothersome signals. The addition of soothing Clove, Cajaput and Mint Oil together with Ceres pure, potent CO2 extracted oil provides deep and lasting relief. Get your Dragon on, and get back to feeling your best.
Dragon OG (or Red Dragon OG) is a sativa-dominant hybrid cross between Red Dragon and OG Kush. Red Dragon adds gentle invigoration to OG Kush's mid-level sedation and pleasant euphoria. This heady hybrid offers mood-boosting mental stimulation and relaxing body effects that stick to the bones. Enjoy this strain throughout the day to boost creativity and combat moderate pain, but beware: this potent combination can be overstimulating in large doses.
By providing us with your email address, you agree to Leafly's privacy policy and terms & conditions.
About this strain
Dragon OG effects