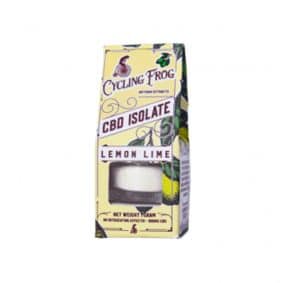 Isolate powder is one of the most versatile CBD products. If you're an experienced user, you can make your tinctures, vape oils, creams, and add it to fat-containing foods and beverages.
Most people use CBD products in a ready-to-go form like tinctures. However, it's also possible to purchase raw CBD isolate — a solid form of 99% pure CBD crystals. This form of CBD is ideal for making your own CBD preparations such as tinctures, vape juices, topicals, and as an addition to foods and beverages.
Lazarus Naturals' Cycling Frog CBD isolate is made from non-GMO, Oregon hemp. Considering Oregon's strong reputation as a hemp source, we think this is a great bonus. Also, Lazarus provides third-party tests for pesticides and heavy metals. The only weak point of this hemp source is the lack of organic certification.
4.5 / 5
2. Versatile
4.5 / 5
Lazarus Naturals Cycling Frog CBD isolate has four available flavors — raw, or one of three terpene flavors: Hawaiian Citrus, Lemon-Lime, and Valencia Orange. It'd be great if it also came in multiple sizes, but Lazarus does offer a bulk CBD isolate for people who need large amounts.
This product contains 99% pure cannabidiol. In addition, the flavored version also contains a specific blend of cannabis terpenes. This is fairly standard for a CBD isolate product.
Lazarus Naturals Cycling Frog Isolate
Valencia Orange
The Cycling Frog CBD isolate from Lazarus Naturals is a pure, powdered form of CBD. It comes in two varieties:
In this review, we'll go over the Cycling Frog CBD isolates offered by Lazarus Naturals. How potent is it? How does it compare to other isolates? Is it affordable? Here's what you need to know.
What's the other company if you dont mind me asking? Also, can you please teach me to make good quality vape out of isolate please? What is terpsolate? Sorry for the bombardment, I'm a noob.
I'm sorry, I didn't read the link. I use this company too & I do like their stuff. Has helped me tremendously.
Looks like what Lazurus Naturals sells which is good stuff. Lazurus is also vetted across both CBD subs here and are top notch. I've used the Valencia Orange and it was outstanding tasting and exactly what I expected from a good flavored isolate.
I hope it does too. I have alot of problems with my spine & have debilitating pain. I use the cbd high potency tincture & isolate & have cut back on the opiods. I hear that cbd works great on seizures. Epilepsy itself, I don't know. Should help. Remember to start slow & work her way up & research it all. I have read that some people with seizures need a higher dose than most. I personally take 75mg a day. Good luck! !
Thank you for this feedback. It sounds like their products are getting solid reviews!