For a northside option, The Workshop is a cosy space in Ang Mo Kio with 24/7 accessibility and some of the most competitive prices around. You won't get an international network of LinkedIn-fluent contacts, but you do get a comprehensive, no-frills deal of utilities, desks, printing credits and beverages. The Flexi Desk membership starts from just $220 a month; or take it up a notch with a Work/Maker Pod where you get your very own workshop space from $650 a month.
This is one cool co-working space found at arts enclave Bras Basah, plus it's huge with 8,000 sq ft of meeting rooms, kitchen areas, work stations, private desks, and even a space for a spot of table tennis. It's also user-friendly and offers accessible per-hour booking rates with work stations starting from $30 a day and going up to $600 a month. Being open round the clock is another bonus, if you're more the kind that gets your creative juices flowing later in the day.
Amsterdam-born creative workspace provider Spaces have a total of six outposts in Singapore spread across the island, so take your pick from locations like City Hall, Clarke Quay, Somerset and even Paya Lebar. Each site caters to a slightly different clientele, but all offer that same fuss-free and well-thought-out work space solution we've come to expect from Spaces. From single dedicated desks with lockers (from $550 a month) to private offices that start from $825 a month, expect 24-hour access, a single bill to track all expenditure, and even be part of their Business Club where like-minded individuals can gather to not just work together, but simply form new connections that could lead to the next big thing.
For those used to hot-desking and minimalist spaces, co-working space veteran The Co. easily fits the bill. They are no stranger to buzzy corporate types and creatives alike, and offers offices at either their OG High Street building or at Duxton. Individual desks go for $45 a day, $350 for 10 visits a month and $600 monthly, while a swanky office suite can set you back $700-990 per person.
The Working Capitol
Arguably Singapore's smartest co-working space, Distrii's magic lies in its proprietary app. It is all at once the key to your co-working office and your locker, the place to book shared meeting spaces, a video conferencing tool, a business social network, a team collaboration platform, and even where managers can handle attendance and leave approval. Besides the awesome app, Distrii has all the usual bells and whistles that make co-working spaces fun. Across seven floors of space they hold regular events, house breakout spaces with exercise bikes and foot massage mats, has an in-house cafe in the form of Mellower Coffee, and burger bar Hans im Gluck on level one. Distrii is highly suited for bigger startups and SMEs. They offer flexible, dedicated office spaces that can be customised to your liking—just let their in-house architects and engineers know what you want. But even if you're a lone freelancer, private fixed desks ($750) and hot desking ($550) options are available too.
They first opened an amazing 15,000 square feet, stylish space at One George Street in 2016, decked in a blue-tan color scheme, hardwood floors, leather sofas and retro-chic touches. Now, the hospitality-themed co-working space has expanded to four venues in Singapore—including at Centennial Tower, Ngee Ann City and the Raffles Arcade—all featuring jaw-dropping views and top-notch comfort as you work in hot desks, dedicated offices, or communal areas decked in plush leather. Get a day pass starting at $70, or you can sign up to be a member from $750/month which gives you access to the hot offices, exclusive events, a business address and other member perks.
The lovechild of former co-working spaces Found. and Collision8, Found8 offers more than just a temporary office space for hungry entrepreneurs. Benefit from their joined forces to tap on an even larger community of startups, experts and investors; Found8 also holds numerous events and programmes for its members. "Virtual" membership is $50 a month, with hot desking starting from $390 a month. With its five locations in the CBD—Amoy Street, Anson Road, Cuppage, High Street Centre and Prinsep Street—it's a growing force to be reckoned with.
Smartspace
This local innovation catalyst company—a collaboration between Unilever Foundry and Padang & Co—welcomes tech startups and entrepreneurs in Singapore all around the world to use their 22,000 sq ft workspace. Padang & Co designed and manages the space, which houses facilities like hot desks, phone booths, board rooms and event spaces. It is connected to Unilever's headquarters, which will give you access to their events and programmes. Membership plans start from $100, which gives you a hot desk once a week plus access to the community, to $650 for a personal desk.
With an emphasis on work-life balance, Gather (located above Common Man Coffee Roasters in River Valley) is the co-working space to be if a more social work life is what you're looking for. They have a pet-friendly policy, large communal spaces and a pantry on each of their three floors—all done in an effort to foster a more lively work environment. You can also expect events held here to be less stuffy, more lifestyle focused. Soothing pink hues and light wood tones dominate the interior colour scheme, giving off a comforting, homely vibe. This doesn't mean you can't get serious work done here. They have both open format and fully-furnished office solutions, and their payment policy is one of the most flexible in town. You pay per head rather than for the square feet of your office, allowing smaller companies with scalability in mind greater room to maneuver.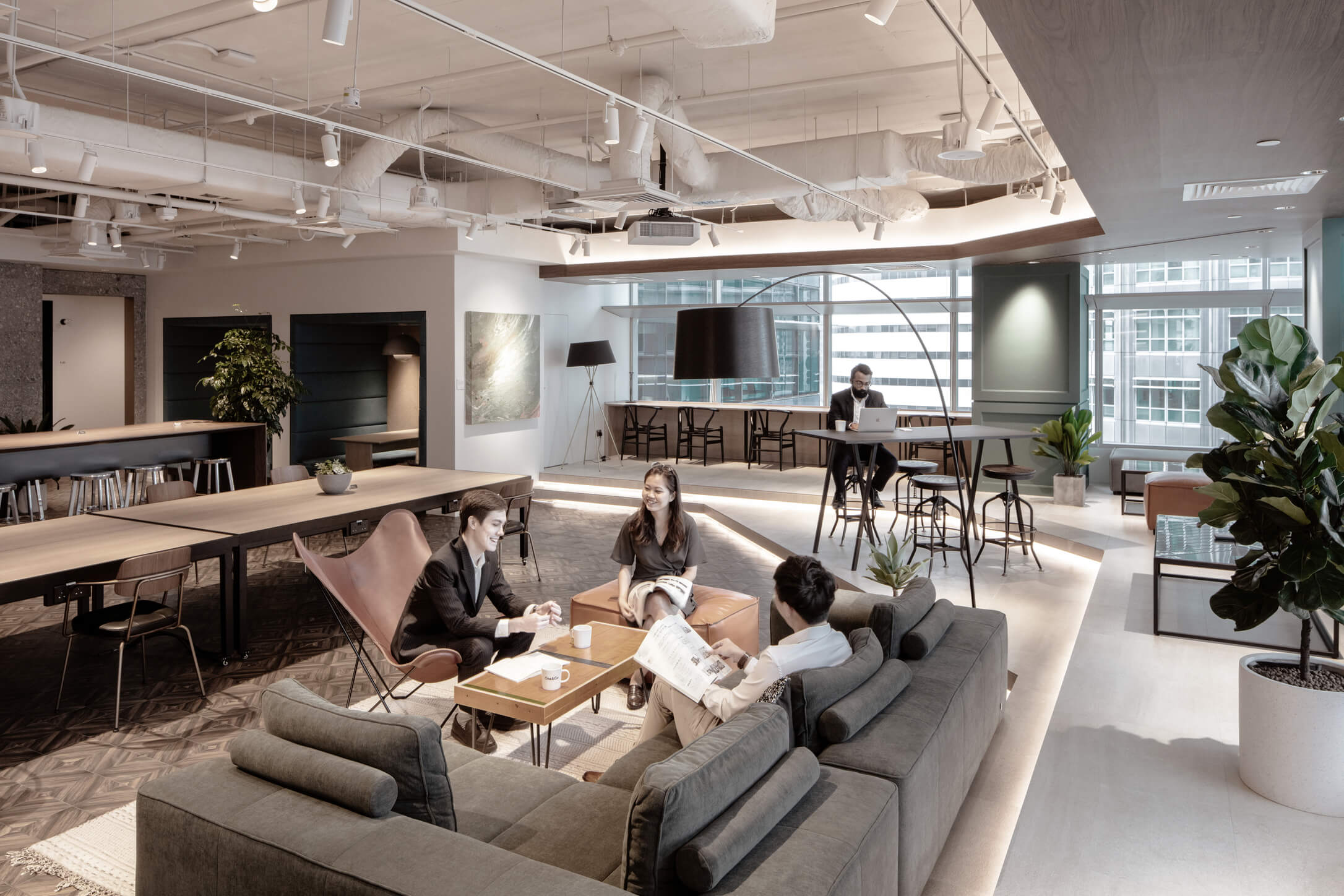 Inclusion | Innovation | Impact
Designed with your comfort in mind, One&Co is a co-working space located in the CBD area of Tanjong Pagar. A Platform for Innovative Businesses, we believe in building an inclusive community to foster connection and collaboration. Whether you are a start-up, freelancer, or an established enterprise, we offer flexible workspace solutions to meet your business needs.
2. The Hive Carpenter @ 36 Carpenter Street
Many of Workbuddy's coworking offices are brand names in the coworking sector. Even though their rates are so affordable, Workbuddy's offices are very nicely appointed. Their offices come with sleek interior décor, with all the amenities that you'd expect from a modern shared working space.
Enquire for more info
The Work Shop (AMK location)
Price: $300/month
Here are some of the stylish and well-equipped coworking offices you'll get access to when you sign up with Workbuddy:
Workcentral
3. Spaces @ Paya Lebar
Coworking Office Address: 49+ locations throughout Singapore