In 2015, Continental Deli opened its doors in Newtown, offering an authentically European deli, bar and bistro experience. It wasn't long until it became a neighbourhood institution, renowned for its range of canned goods made on site – mostly famously, it's iconic canned cocktail range including the Mar-tinny and Can-hattan as well as house canned seafood range. Three years on, Continental Deli bought it's signature style to the city, opening on Phillip Street conveniently positioned half way between Martin Place and Hyde Park, just opposite the Supreme Court.
Continental CBD offers a more extensive European style menu in addition to the Continental classics. There is also a sandwich menu and catering packages for customers on the go. Doors open Monday to Friday for all day dining from lunch through to dinner and drinks, accommodating all group sizes in our bar and dining space.
The Continental bar offers a wide range of classic cocktails – with a strong focus on vermouth and amaro also cocktails made fresh to order with cold-pressed juices and house-made liqueurs, along side the famous canned cocktail range. The extensive wine menu spans the globe whilst proudly boasting a range of heritage Australian wineries and young, innovative and game changing wine makers.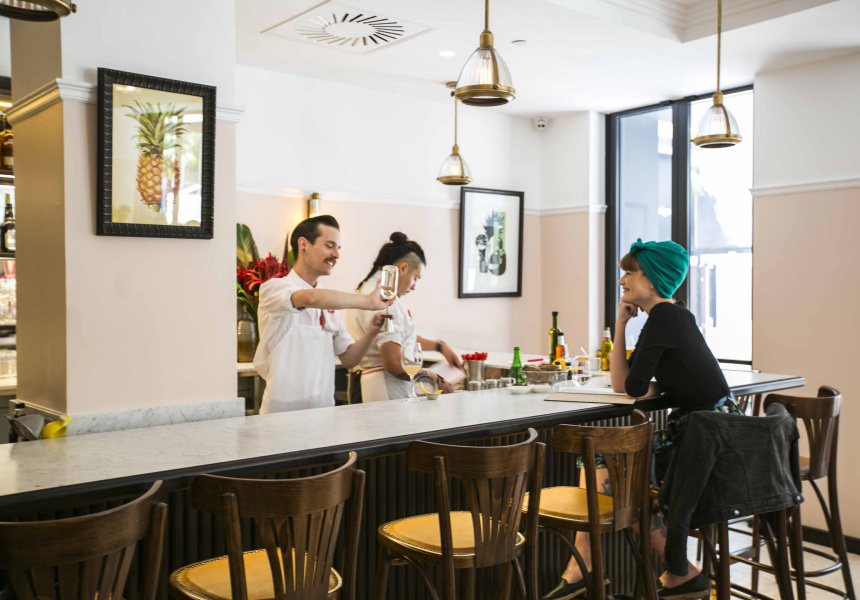 Everything that made the original exceptional is echoed here (although it's only one level rather than two). There's the rare and delicious cheeses and charcuterie, a large range of tinned fish from across the globe, and produce batched and canned in the inner-west restaurant.
You can still opt for a Mar-tinnie (a canned Martini) and Gilda (guindilla chilli pepper, olive and anchovy on a toothpick) while perching on a bar stool, but the vibe is more a one-plate, one-person business-lunch scenario – maybe a steak (dry-aged rib eye or a roast sirloin); half a roast chook with sweet corn and cavolo nero; or a pork chop with apple, crème fraîche and sugarloaf cabbage. There's also a lunchtime sandwich menu of mortadella, ham and butter or a meatball and Parmigiano-Reggiano option.
Cold cuts, cheese, canned goods, fine wine, stiff drinks. Once this list could only describe one venue, until Newtown's Continental Deli Bar and Bistro opened this CBD counterpart in 2018.
The space was designed by co-owner Sarah Doyle (Elvis Abrahanowicz, Joe Valore, Jesse Warkentin and Mikey Nicolian are the other owners) and features Art Deco wall pieces, a marble 16-seat bar, glass facade and pastel pinks, which imbue it with a similar look and feel to the group's flagship restaurant, Porteño (it also owns Bodega and has a hand in a number of places, including the recently opened Bella Brutta).
The most obvious digression is the addition of a pasta extruder. The opening menu included a trio of pastas: a mafaldine (like a fettucine with crimpy edges) with Olasagasti tuna and tomato, and a rigatoni with sausage, broccolini, bottarga and cuttlefish.