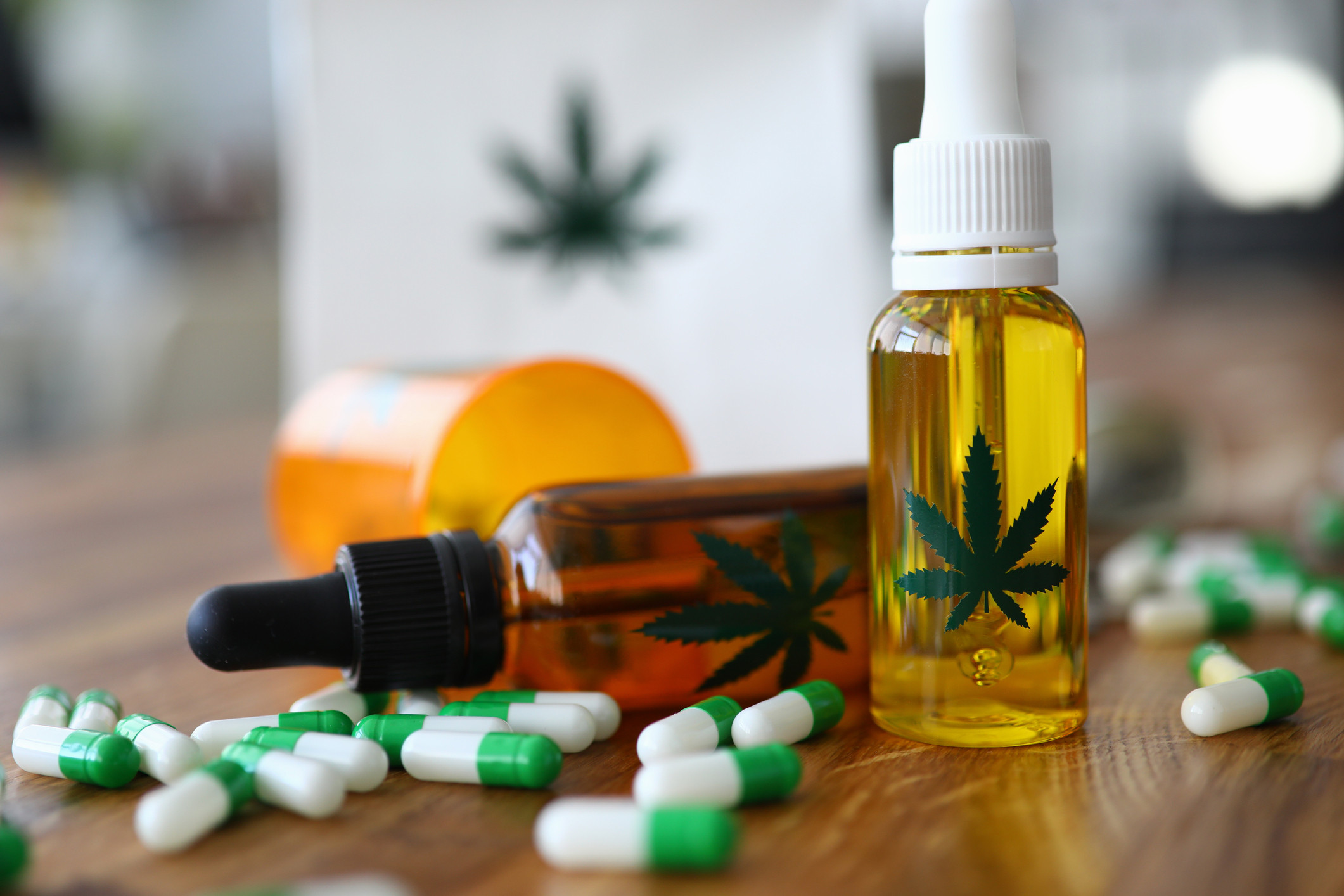 Researchers from Penn State College of Medicine evaluated existing information on five prescription CBD and delta-9-tetrahydrocannabinol (THC) cannabinoid medications: antinausea medications used during cancer treatment (Marinol, Syndros, Cesamet); a medication used primarily for muscle spasms in multiple sclerosis (Sativex, which is not currently available in the US, but available in other countries); and an antiseizure medication (Epidiolex). Overall, the researchers identified 139 medications that may be affected by cannabinoids. This list was further narrowed to 57 medications, for which altered concentration can be dangerous. The list contains a variety of drugs from heart medications to antibiotics, although not all the drugs on the list may be affected by CBD-only products (some are only affected by THC). Potentially serious drug interactions with CBD included
Products containing cannabidiol (CBD) seem to be all the rage these days, promising relief from a wide range of maladies, from insomnia and hot flashes to chronic pain and seizures. Some of these claims have merit to them, while some of them are just hype. But it won't hurt to try, right? Well, not so fast. CBD is a biologically active compound, and as such, it may also have unintended consequences. These include known side effects of CBD, but also unintended interactions with supplements, herbal products, and over-the-counter (OTC) and prescription medications.
CBD can alter the effects of other drugs
While generally considered safe, CBD may cause drowsiness, lightheadedness, nausea, diarrhea, dry mouth, and, in rare instances, damage to the liver. Taking CBD with other medications that have similar side effects may increase the risk of unwanted symptoms or toxicity. In other words, taking CBD at the same time with OTC or prescription medications and substances that cause sleepiness, such as opioids, benzodiazepines (such as Xanax or Ativan), antipsychotics, antidepressants, antihistamines (such as Benadryl), or alcohol may lead to increased sleepiness, fatigue, and possibly accidental falls and accidents when driving. Increased sedation and tiredness may also happen when using certain herbal supplements, such as kava, melatonin, and St. John's wort. Taking CBD with stimulants (such as Adderall) may lead to decreased appetite, while taking it with the diabetes drug metformin or certain heartburn drugs (such as Prilosec) may increase the risk of diarrhea.
The researchers further warned that while the list may be used as a starting point to identify potential drug interactions with marijuana or CBD oil, plant-derived cannabinoid products may deliver highly variable cannabinoid concentrations (unlike the FDA-regulated prescription cannabinoid medications previously mentioned), and may contain many other compounds that can increase the risk of unintended drug interactions.
Doubling up on side effects
Many drugs are broken down by enzymes in the liver, and CBD may compete for or interfere with these enzymes, leading to too much or not enough of the drug in the body, called altered concentration. The altered concentration, in turn, may lead to the medication not working, or an increased risk of side effects. Such drug interactions are usually hard to predict but can cause unpleasant and sometimes serious problems.
CBD is thought to act on certain receptors in your brain and other parts of the body, in ways that could relieve pain, or help certain health conditions, like childhood seizure disorders. However, as with any "natural" product, the fact that it comes from plants doesn't automatically render it innocuous. For some people, particularly those taking certain prescription medications, using CBD is risky. It has anticoagulant effects that can thin blood; it can also modestly lower blood pressure. These effects could be dangerous for people with certain medical conditions.
Are the concentrations in commercially available CBD high enough to cause this interaction? The evidence doesn't really say one way or another. Dr. Alloway's research involved a high dosage of CBD that wouldn't be found in a retail product. However, it "highlights that a drug interaction is there," she says. Plus, tacrolimus is metabolized in the body by a group of enzymes called cytochrome P450 and CBD is a known inhibitor of this process. What does that mean? If CBD inhibits the metabolism of tacrolimus, the patient can end up with too-high levels of tacrolimus in the body. In light of this, she urges anyone taking tacrolimus to speak with their transplant team before using CBD. Don't get your hopes up, though—using herbal remedies, particularly those with potential interactions, is generally frowned upon by doctors looking after transplant recipients (including Dr. Alloway).
Is CBD marijuana?
As for other drugs, well, most haven't been studied yet. There is preliminary evidence that CBD could have a similar effect to grapefruit juice, impairing how your body metabolizes drugs, and raising serum levels of those medications in your body. And, because cytochrome P450 is responsible for the metabolism of numerous medications , proceed with caution before mixing any prescription pharmaceutical with CBD, Dr. Alloway says.
Does CBD interact with medications?
But claims that CBD aids in the treatment of certain mental health and psychiatric conditions, don't pass muster, says Roger McIntyre, MD , professor of psychiatry and pharmacology at the University of Toronto.
Pregnancy and breast-feeding: It may be unsafe to take CBD if you are pregnant or breast feeding. CBD products can be contaminated with other ingredients that may be harmful to the fetus or infant. Stay on the safe side and avoid use.
Children: It is possibly safe for children to take a specific prescription CBD product (Epidiolex) by mouth in doses up to 25 mg/kg daily. This product is approved for use in children with certain conditions who are at least 1 year old. It isn't clear if other CBD products are safe in children.
Are there interactions with medications?
Laws passed in 2018 made it legal to sell hemp and hemp products in the US. But that doesn't mean that all CBD products made from hemp are legal. Since CBD is an approved prescription drug, it can't be legally included in foods or dietary supplements. CBD can only be included in "cosmetic" products. But there are still CBD products on the market that are labeled as dietary supplements. The amount of CBD contained in these products is not always the same as what is stated on the label.
The effectiveness ratings for CANNABIDIOL (CBD) are as follows:
Are there interactions with herbs and supplements?
Cannabidiol (CBD) is a chemical in the Cannabis sativa plant, also known as cannabis or hemp. One specific form of CBD is approved as a drug in the U.S. for seizure.