There are between 1.25 and 3.4 million people in the UK struggling with eating disorders. Additionally, with an increased emphasis placed on body image and weight in recent years due to the prevalence of social media, our appetite has never been of greater concern.
Finally, CBD patches are a smart choice of delivery method for combatting nausea and vomiting. When you are feeling such symptoms the last thing you want to do is drop an earthy liquid under your tongue or swallow a capsule. A CBD patch is far more convenient and provides a consistent stream of relief.
Co2 Extraction
One single blind study conducted in 2012 found that CBD did indeed improve sleep. One group were given a placebo, while the other group were given 160mg of CBD. The latter group benefitted from increased sleep duration.
Cannacares CBD patches do not contain any THC. The CBD patches are formulated using broad-spectrum CBD oil, meaning that there is no trace of THC in the CBD oil that is used within the patches. The broad-spectrum CBD oil is then formulated into the adhesive of the patch to enable an efficient method to deliver CBD through the CBD patch.
Product
As of March 31 2021, all ingestible CBD products will have to be formulated using CBD isolate. Cannacares CBD oils use CBD isolate from a supplier who has submitted their Novel Food Dossier and stability testing is being carried out on the CBD oils to ensure they are fully compliant with the new regulations.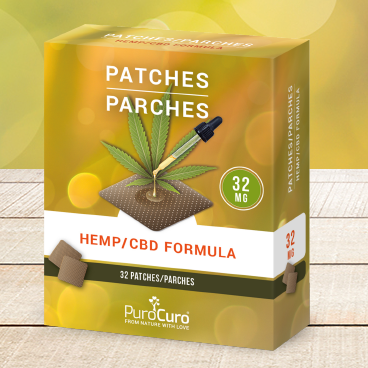 USE
Apply one plaster directly on the skin and remove after 8 hours.
DISCLAIMER
Do not use during pregnancy or when breastfeeding. Consult a doctor in case of doubt. Keep out of reach of children. Store beneath 30 degrees Celsius.
An easy, effective and inexpensive way to apply CBD straight to the part of skin that needs extra healing power.
INGREDIENTS
Hemp/CBD formula: 16 mg per plaster, total 512 mg. Excipients: pressure sensitive glue and penetration amplifiers (antioxidant, hydrocarbon, C5/C9, copolymer). Latex & THC-free.