Diana Apetauerova, MD, is board-certified in neurology with a subspecialty in movement disorders. She is an associate clinical professor of neurology at Tufts School of Medicine.
The benefits and research around CBD are still emerging
The body of research on using CBD for Parkinson's disease symptoms is rapidly growing, as Parkinson's disease affects 1% of the population over 60 years old.   Parkinson's disease is a neurological condition, affecting the nervous system. Parts of the brain that produce dopamine, which is responsible for sending messages to the body in order to direct movement, become damaged or die. This results in tremors, muscle stiffness, the inability to use facial expressions, and trouble balancing.
Research
CBD has been discovered as an effective way to help treat Parkinson's disease symptoms because it interacts with two cannabinoid receptors in the body found on certain cells called CB1 and CB2. By interacting with one or both of these receptors, CBD may delay tremor development as well as have protective neurological benefits. But as seen with the above studies, there is no uniform approach or conclusion on this treatment method. This means that patients may react differently to using CBD, some having tremendous success while others seeing little difference. But regardless of whether or not CBD is an effective treatment option for you, you always need to consult your treating physician to make sure this treatment will not cause side effects.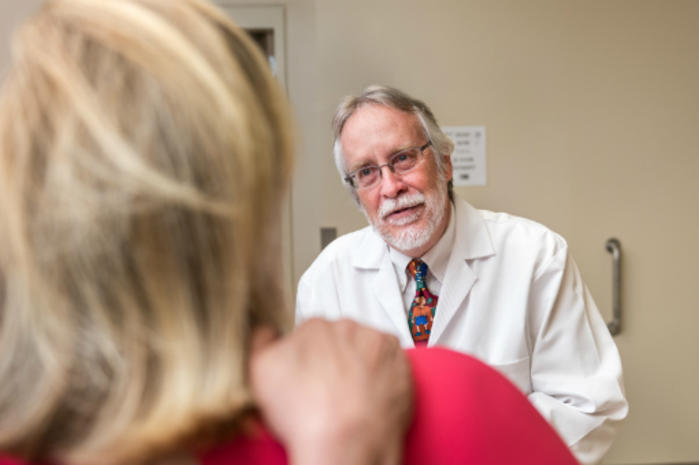 Many doctors and researchers believe the marketing and hype of cannabis products is ahead of the science and evidence. Be wary. Many have watched videos of people with PD using marijuana and seeing all their symptoms disappear within seconds. There also are many internet stories about marijuana as an "all-natural" cure for Parkinson's (as well as cancer and other conditions). In general, when social media provides a level of endorsement significantly out of proportion to what you hear from your doctor, it is probably too good to be true.
Several factors limit the ability to perform research and interpret results:
Cannabis comes in several forms and can be taken different ways: smoking or vaping dried leaves, swallowing pills or eating or drinking foods (edibles) that contain cannabinoids, putting liquid or drops under the tongue, or applying creams or ointments to your skin (on painful areas, for example). Two U.S. Food and Drug Administration (FDA)-approved prescription cannabis medications also are available for specific conditions, such as epilepsy or cancer- or AIDS-related symptoms.
Why is cannabis research difficult?
Try to be open, honest and willing to hear what your doctor says. Tell them you are looking at all treatment options and want to learn if and how cannabis might help. And if you are considering or taking specific products, share which. (Bring printed information or a picture of the label.)
The Michael J. Fox Foundation also recently convened a workshop on this topic with field leaders and other Parkinson's organizations. Participants examined opportunities and challenges, agreeing that much work remains to understand how patients and doctors are using and talking about these products; to build education and communication around cannabis and Parkinson's; and to evaluate safety, potential benefits, side effects and drug interactions, as well as the optimal dosing and formulations.
Regulations may deter investigators and participants.
The federal government classifies marijuana as Schedule I, which includes drugs that have no current acceptable medical use and a high potential for abuse. The Michael J. Fox Foundation supported legislation that eliminated barriers to conducting medical cannabis research. Funding restrictions also may limit research.
Studies often have limitations.
Size, design, and lack of standardized formulations or dosing make it difficult to compare studies and draw conclusions. Many studies include small numbers of participants, so it's unlikely the group represents the broad Parkinson's population or that results apply to the majority. Few studies include a placebo group, which makes it difficult to determine how much benefit may truly be from cannabis and how much might be placebo effect. And studies that include questionnaires rely on individual report, which may involve bias or inaccuracies.
How can I talk to my doctor about cannabis?
Clinical trials have generally had mixed or conflicting results (some positive, some negative). On questionnaires, people often report benefit on pain, sleep, mood, or motor symptoms such as tremor or stiffness. But many also report side effects. This leaves patients, doctors and researchers with insufficient evidence to guide use.
Parkinson's disease (PD) is a common and complex neurological disorder that encompasses a range of clinical, epidemiological, and genetic subtypes. Loss of dopaminergic neurons in the substantia nigra leading to striatal dopamine depletion is the core mechanism underlying the cardinal motor features of PD. Although depletion of dopamine is the most notable neurotransmitter change in PD, other neurochemical changes occur and contribute to PD symptomatology. Many regions of the nervous system outside the basal ganglia are also involved in PD. The underlying molecular pathogenesis involves multiple pathways and mechanisms, such as α-synuclein proteostasis, mitochondrial function, oxidative stress, calcium homeostasis, axonal transport, and neuroinflammation.
Although clinical diagnosis relies on the presence of cardinal motor features, PD is also associated with numerous non-motor symptoms that can be equally disabling than the motor symptoms or even more so. Drugs that enhance intracerebral dopamine concentrations or stimulate dopamine receptors remain the main treatment for motor symptoms. None of available treatments have proven to be neuroprotective or disease-modifying. Dopaminergic drugs are particularly effective during the early stages of the disease. However, PD invariably progresses, and long-term use of these medications may lead to reduced drug efficacy and the development of complications such as motor fluctuations and dyskinesias.
There is a clear need for therapies that target other pharmacological systems. A multimodal approach combining activity on dopaminergic as well as non-dopaminergic system would be very helpful and needs to be explored.