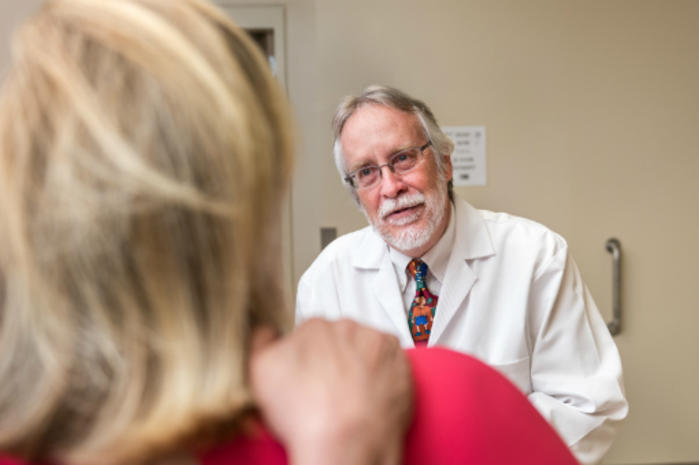 Many doctors and researchers believe the marketing and hype of cannabis products is ahead of the science and evidence. Be wary. Many have watched videos of people with PD using marijuana and seeing all their symptoms disappear within seconds. There also are many internet stories about marijuana as an "all-natural" cure for Parkinson's (as well as cancer and other conditions). In general, when social media provides a level of endorsement significantly out of proportion to what you hear from your doctor, it is probably too good to be true.
Cannabis also could interact with other medications you are taking. While interactions are largely unknown, adding cannabis to a complex regimen of Parkinson's and other prescription medications could present a risk. It's important to tell your Parkinson's doctor what you are taking, so that they can alert you to possible interactions.
One of the most common questions people with Parkinson's ask is, "What about medical marijuana?" Many are curious if and how it might work for different symptoms, and what the research says.
Through a recent questionnaire in MJFF's Fox Insight online study , nearly 1,900 people with Parkinson's shared their experiences with cannabis. In general, most people reported benefits on sleep, anxiety and pain. But some also had side effects and nearly one-third reported not discussing use with their physician. Full results are expected later in 2021.
In low doses, cannabinoids appear to be relatively well tolerated. But, like all treatments, they have potential side effects: new or worsened nausea; dizziness; weakness; hallucinations (seeing things that aren't there); mood, behavior or memory/thinking (cognitive) changes; or imbalance. Regular smoking or vaping also could cause lung damage. The potential risks on cognition, mood and motivation (to exercise or participate in other activities, for example) are especially important for people with PD.
Why is cannabis research difficult?
Under federal law, doctors cannot prescribe cannabis. But qualified doctors (those who have completed additional training and registration) can issue "certifications" that permit patients to get a license for medical cannabis. Many doctors choose not to pursue qualification and therefore are not able to issue certifications. (Some states maintain registries of qualified doctors that you can search online.)
With a license, you can visit a dispensary, which sells cannabis products. Licenses typically don't specify dosing or product information, so you work with the dispensary for recommendations on what may work for you. (This often is a trial-and-error process.) As the same product may vary significantly from location to location, it's best to stick with one dispensary.
The main cannabinoid is tetrahydrocannabinol (THC). This can cause the feeling of being "high"—described as happiness, amusement or contentment — that is commonly associated with marijuana. THC may help nausea, pain or muscle spasms, but it also can have negative effects on mood, behavior and thinking. The second most common cannabinoid, cannabidiol (CBD), seems to have less effect on thinking, memory or mood.
The body of research on using CBD for Parkinson's disease symptoms is rapidly growing, as Parkinson's disease affects 1% of the population over 60 years old.   Parkinson's disease is a neurological condition, affecting the nervous system. Parts of the brain that produce dopamine, which is responsible for sending messages to the body in order to direct movement, become damaged or die. This results in tremors, muscle stiffness, the inability to use facial expressions, and trouble balancing.
The benefits and research around CBD are still emerging
With the legalization of medical marijuana, many states are approving the use of it in a non-traditional way to treat the symptoms of certain conditions, including Parkinson's disease. Marijuana has two major components to it—tetrahydrocannabinol (THC) and cannabidiol (CBD). Both may help with nausea and muscle pain or spasms, but unlike THC, CBD doesn't give you the "high" feeling marijuana is most commonly known for. This makes it an enticing, natural way for many to help treat their Parkinson's disease symptoms. What's more, is that because CBD is a natural compound from the Cannabis sativa plant, using it may also leave you side effect-free, unlike many prescription medications.
Research
Since Parkinson's disease can take some time to properly diagnose when the symptoms are already prevalent, using CBD once diagnosed may not offer much benefit. With early detection combined with the use of CBD together the possibility of reducing movement-related symptoms increases.
Objective: To assess the PD community's perception of MC and patients' experience with MC.
Background: Little is known about the patients' view on treatment with medical cannabis (MC) for Parkinson's disease (PD).
Methods: Applying a questionnaire-based survey, we evaluated general knowledge and interest in MC as well as the frequency, modalities, efficacy, and tolerability of application. Questionnaires were distributed nationwide via the membership journal of the German Parkinson Association and locally in our clinic to control for report bias.