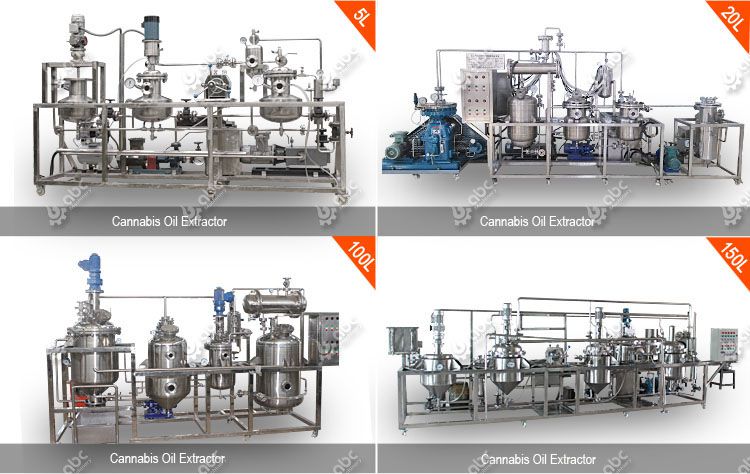 Best Cannabis Oil Extractor Equipment for Sales
The common misconception of cannabis oil is that cannabis as a drug can only be abused to induce a feeling of intoxication. However, cannabis oil has powerful functions on human body and can be used to treat many diseases. It is used as herbal treatment for headaches and migraines. It prevents glaucoma and is known to help in the shedding of dead skin cells thus leaving one with healthy, glowing skin. Cannabis oil is a great pain reliever. It is a sleep inducer and a stress reliever. The THC element of the cannabis oil has been known to target and kill cancerous cells in human beings and animals. This essential cannabis oil also enhances the health of one's cardiovascular muscles. These and more benefits have made cannabis essential oil very popular in today's market. Many companies have shed light on the functions of the product in everyday life and thus created a great deal of investment in the business. And, we provide a new type innovative cannabis oil extraction machine & efficient cannabis oil extraction method to help investors produce high quality cannabis oil to meet increasing market demands.
Many people can't clear hemp oil and cannabis oil. They usually though that they are the same, except that hemp oil is extracted from the seeds, while cannabis oil is extracted from the cannabis sativa. Actually, they are two different oils since they contain different biochemical molecules. (Are you still interested in how to make hemp oil and hemp protein powder?)
Advantages of Cannabis Oil Extractor – Low Temperature Extraction Method
There are two types of cannabis oils for different functions, one is CBD oil and the other is THC oil. CBD oil is the cannabis oil that is used as the supplement for health problems. THC oil is the type of cannabis oil with high concentrates. Our cannabis oil extraction equipment can extract the specific oil based on your needs. Do you need high concentrate cannabis oil or less concentrate cannabis oil? You can easily make choices.
ABC Machinery is an up-rising star in developing and manufacturing best technology & machinery for natural components extraction. Our latest low temperature herbal oil extractor equipment is almost perfect for all natural herbal extract, including prickly pear seed oil, evening primrose oil, peony seed oil, seabuckthorn seed oil, blackcurrant seed oil, sacha inchi oil, cannabis oil, and more. If you are not sure which is the best extractor equipment and method for your raw material, please contact us for professional advice!
New Type Cannabis Oil Extractor & Method
Our innovative new type cannabis oil extractor equipment adopts sub-critical low temperature solvent extraction method to get high concentrated oil extract. Different from traditional hexane extraction, the cannabis oil extracting equipment uses sub-critical solvents, such as butane, propane, dimethyl ether, R134a or liquid ammonia, as the main solvents. And the whole process of cannabis oil extraction is under low temperature and low pressure conditions, which causes no damages on the active ingredients of cannabis oil extracts. Detailed extraction process of cannabis oil at Essential Oil Extraction Machine>>
As for today's oil extraction technology, the cannabis oil extractor patented by ABC Machinery is the best choice for cannabis oil extraction, both small scale and large scale production. It uses low temperature extraction method and ensure the quality of final cannabis oil. At the same time, the investment for a complete set of cannabis oil extraction equipment is much less than that of supercritical CO2 extraction machine. If there are interested in our cannabis oil extraction machinery and method, please contact us, you are completely guaranteed profession, quality and service!
The Io extractor from Luna Technologies processes both butane and propane, though at slightly different rates. When using propane, the fully automated extractor can process 37lbs of cannabis material per hour. If using butane, it can process slightly less at 27lbs per hour. a fully automated system capable of extracting 18lbs of plant material per hour.
Compared to the industrial behemoths, OCO Labs' SuperC extractor looks like a toy. But don't be fooled by its size; for the right buyer, this little extractor has is it all-in-one. Capable of processing 1oz at 4500 psi by itself, the SuperC's capabilities can also be expanded with purchased additions such as OCO Labs' rack specs.

Alcohol Cannabis Extraction
Ice Water Extraction
The CUP-30. Image credit: Delta Separations .
The SuperC. Image credit: OCO Labs.
The Eberbach Model E5703. Image credit: Eberbach.
The top 12 cannabis extraction machines:
Butane, or propane in some instances, can be seen as similar solvents to CO2 in many ways. The butane is pressurized and heated, which transforms it from liquid to a vapor, making it easier to remove. This process creates a shatter, a clear material of THC, CBD and other cannabis compounds like terpenes. Although effective, the process can be undesirable for medicinal products, due to the risk of contamination.

Mike May
Freelance writer and editor
• CO2 Cannabis Extraction machines have high yields , while Ice Water Extraction is more suited for small scale use.
• The company offers replacement parts that are engineered and manufactured to the original company expectations and reduce maintenance and improve uptime. Paul O. Abbe has provided most of the parts for over 50 years, and also completely refurbishes or rebuilds Paul O Abbe process equipment.
Price Ranges
• HempFlax provides used equipment as part of the company's environmentally friendly approach . The used equipment is refurbished and upgraded to HempFlax's standards that are continually refined to provide even better products with a smaller environmental footprint .
• Hydrocarbon hemp extraction is effective but the process is not ideal for medicinal products because of the risk of contamination.
Companies that Sell Used Machines
Pros