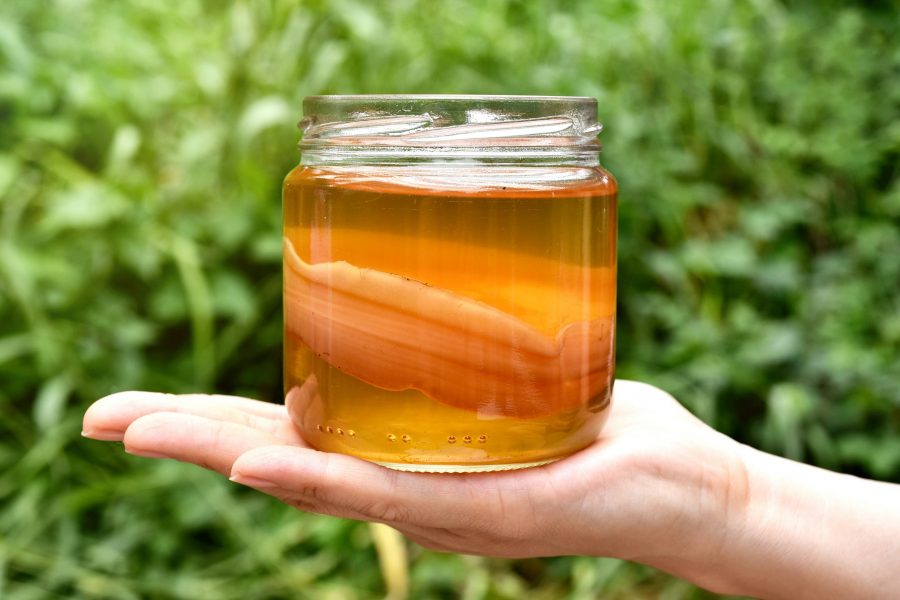 As kombucha brews, it also produces vinegar and probiotics. Vinegar helps your body by killing any harmful bacteria.
Have you been loving kombucha before it became trendy? Maybe you've only just heard of it. No matter your experience, this is a new one to try!
Kombucha is a fermented tea beverage, and because of it's fermentation process it is believed that it can support a healthy digestion system.
Yes – a SCOBY is slimy, and strange-looking – but it's the most important element in your batch!
Have we got you convinced that Cannabis Kombucha is where it's at?
Kombucha 101:
Fermentation is great for digestion because it contains probiotics – essential for gut health!
From what we've researched, it also delivers in vitamin B and antioxidants.
Cannabis Kombucha may improve digestion and here's why I'm loving it:
We do have to warn you that making your own Cannabis Kombucha takes patience and time – so knowing that, we'd love to share with you how to brew it yourself.
The probiotics aid in digestion and may even lower inflammation! The cannabis makes it perfect with a fizzy buzz that'll leave you feeling great!
Sure, regular kombucha comes in all sorts of flavors and can even be purchased at the local deli or grocery store. But cannabis kombucha has just recently hit the market. At the 2015 Cannabis Cup, this special "living tea" caused a stir.
Though the fermentation process takes a significant amount of time, it's worth it. This potent and sippable drink will have you feeling healthy and high.
Before Beginning to Brew
To begin the kombucha making process, pull together these ingredients:
Round 2: The Double Brew
As kombucha brews, it also produces vinegar and probiotics. Vinegar from this process helps the body by killing harmful bacteria. Furthermore, probiotics aid the body in digestion and helping to reduce inflammation. And to top it off, this tasty drink may reduce the risk of heart disease.