Another study found that cannabinoids inhibit psoriasis lesions, also called keratinocytes, from growing as rapidly. In addition, research indicates that the way the ECS moderates interactions between the CNS and the immune system suggests cannabinoids as a psoriasis treatment. In fact, a range of science suggests that cannabinoid products might be used to treat various skin diseases such as eczema, acne, and even skin cancer, along with psoriasis.
Foods that are high in antioxidants such as fruits and vegetables may help fight oxidative stress and inflammation, so these are recommended for patients with psoriasis and other autoimmune conditions. Some patients benefit from eating foods high in omega-3 fatty acids such as fatty fish like sardines and salmon which may reduce inflammation in the body. Anti-inflammatory spices such as turmeric and oils like coconut or olive are another natural option to try—but either way, you'll be altering your diet.
Psoriatic arthritis is caused by inflammation and affects about 30 percent of psoriasis patients. Elevated levels of inflammation can also cause complications such as typical arthritis, heart disease, thyroid issues, diabetes, and kidney problems in people with psoriasis. For all of these reasons, it's important for people with psoriasis to watch cholesterol levels and maintain their weight.
How CBD Oil Works to Alleviate Symptoms of Psoriasis
Basically, this is an ongoing war—a series of battles you fight your whole life. You look for the weapons that work best against psoriasis for your body, and you add them to your arsenal. You avoid the triggers that make it worse and hope they're not everywhere.
Retinoids are synthetic forms of vitamin A that can help speed up the skin cell shedding and growth cycle so plaques don't build up as much. However, retinoids can also make your skin more sensitive and can decrease in effectiveness over time.
There are also newer laser systems approved to treat psoriasis on the scalp. Obviously, these are an in-office option only, too.
Symptoms of Psoriasis
Broad-spectrum CBD oil is a version of full-spectrum CBD oil with all traces of THC removed.
There are three primary systemic medications usually used to treat psoriasis: cyclosporine, methotrexate, and retinoids. Cyclosporine and methotrexate are immunosuppressant drugs that work by suppressing and regulating the unhealthy overactive immune system action. However, ulcerations are a risk for patients taking methotrexate.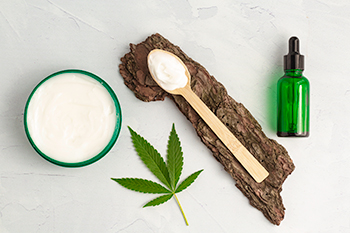 Several studies have associated systemic CBD and other cannabis-derived products with worsening heart disease, obesity and diabetes, fatty liver disease, or a higher likelihood of surgery to treat inflammatory bowel disease. Psoriasis patients need to be aware of the psoriasis-associated diseases and their potential worsening with cannabis products. Adverse events are also more likely with systemic or high-dose intake, compared to other delivery methods such as topical CBD oil, for example.
In this Q&A, he answers questions on the safety and effectiveness of using CDB for treating psoriasis or reducing its symptoms.
Psoriasis is a chronic, inflammatory condition linked to the body's immune system. When immune cells become dysregulated in psoriasis patients, they cause red, scaly patches of skin and inflammation throughout the body.
Are CBD products safe for psoriasis patients? What are the risks of using CBD products?
Yet, it is a very reasonable assumption that the potential beneficial psychological (e.g. anxiety reduction) and anti-inflammatory effects of cannabinoids could help alleviate the disease burden associated with psoriatic disease.
For psoriasis patients with specific complaints such as pain, itching, or trouble sleeping, cannabis-derived products might help reduce the negative impact these symptoms have on their life. Ongoing medical research can help tease out the complex mechanisms by which cannabinoids like CBD or THC impact health and modulate biological systems such as the immune response.
Like CBD, delta-9-tetrahydrocannabinol (THC) is a common cannabinoid isolated from the cannabis plant. However, CBD and THC have distinct properties and vary dramatically in their observed effects on the human body. Both compounds can work in place of the body's own cannabinoid system – known as the endocannabinoid system – wherein THC and CBD interact with receptors in specific tissues or the nervous system to mediate a broad range of physiological effects like reduced inflammation, itching and pain relief, increased ability to sleep, appetite stimulation, and decreased anxiety.
What is psoriasis?
Doing your research is important. Patients considering holistic or alternative forms of medical treatments for their chronic medical conditions need to have open conversations with their health care provider to navigate the cannabis landscape better. Looking for transparent ingredient lists and products with a good brand reputation is also important before trying CBD.
The medical community has just barely scratched the surface with regards to the potential benefits and risks of cannabis-derived products. The biochemical impact of CBD on the body needs to be carefully considered. Their effects are determined by many variables, including the delivery method to the body (topical application, inhalation, oral ingestion), dose or concentration of the cannabinoid, or the specific chemical(s) isolated from a particular plant strain.