Researchers have examined the potential usefulness of CBD as a natural modulator of your gut's mucosal defense system, which plays a critical role in preventing the symptoms of IBS. Current research into the effects of CBD on the gastrointestinal (GI) tract is highly limited, but early results have been promising.
At the same time, CBD has a profound effect on the human endocannabinoid system, which manages a variety of essential bodily processes including digestion. Some researchers believe that endocannabinoid deficiency could be one of the primary causes of both physical and mental health conditions, suggesting that taking CBD oil could offer a wide range of beneficial effects.
As an inflammatory disease that affects the digestive system, IBS is a prime target of natural therapies that provide anti-inflammatory benefits within the digestive tract. While we cannot provide medical advice or make claims regarding the usefulness of taking CBD for any condition, we can still examine the evidence that has been accumulated regarding the use of CBD in treating IBS.
How much CBD oil should I take for IBS?
Water-based CBD topicals penetrate your skin and spread CBD throughout underlying tissues. However, topically applied CBD might not penetrate deeply enough to deliver significant concentrations of this cannabinoid into your digestive tract.
CBD capsules pass down your esophagus before releasing CBD into your stomach. As a result, capsules might deliver CBD into your digestive tract more efficiently than other ingestion methods.
Research into CBD for Inflammation
CBD edibles are tasty and convenient, but a lot of the CBD they contain is absorbed into the lining of your mouth as you chew. IBS sufferers might be better off choosing CBD capsules instead.
As orally ingested CBD products, CBD tinctures deliver this cannabinoid directly into your digestive tract. Along the way, however, the CBD in your tincture will also be absorbed under your tongue, potentially limiting the amount of CBD that reaches your digestive system.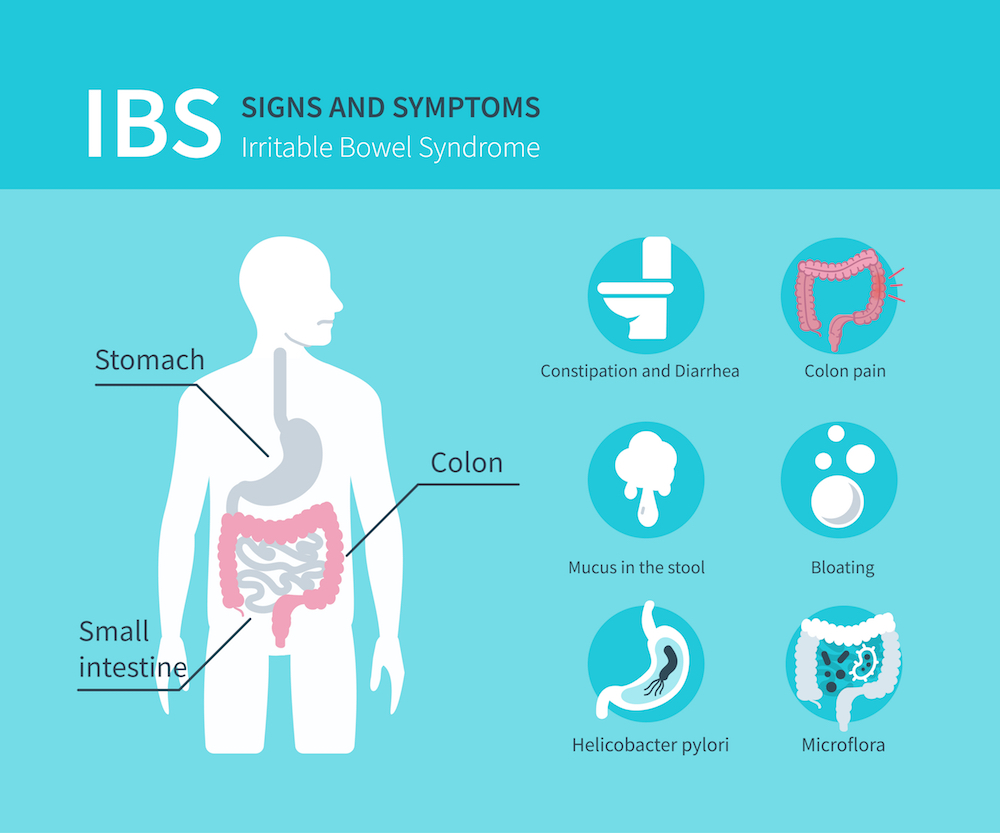 Western countries including Canada, The United States, and Sweden have the highest rates of IBS in the world [11, 12]. In the United States, roughly 1 in 10 people suffer from IBS.
Symptoms involve bloating, abdominal pain, indigestion, and changes in bowel movements (constipation or diarrhea, which can be severe).
There are many potential causes for IBS, but much of what triggers the condition remains unknown. Most of the causes point to a loss of equilibrium in the digestive tract. So the carefully orchestrated balance involved with digestion, absorption, immune defense, and excretion is compromised.
What Causes IBS?
If these criteria are met and there is no other explanation for a cause (such as inflammation, traumatic damage, or infectious disease) the patient is diagnosed with IBS.
Frequent fermentation of processed sugars can damage the structural integrity of the digestive lining over time — leading to accumulation of fluid and diarrhea (IBS-D) or lack of movement in the muscles in the small and large intestines causing constipation (IBS-C).
Homeostasis is the state of balance in the body. It penetrates virtually every aspect of life — from body temperature to digestive enzyme secretion. Any issues with homeostasis can negatively affect our health.
What is CBD Oil?
CBD is useful for this type of IBS because it doesn't push the digestive function in any specific direction. Instead, it improves the body's ability to regulate homeostasis. Along with other therapies to manage symptoms, the body has a better chance of returning to a higher state of health on its own.
Here's how CBD might be able to help.