CB1 receptors – effects of endocannabinoids and d-9-THC Release of Anandamide (AEA) and 2- arachidonoylglycerol (2-AG) to inhibit glutamate (Glu), Gamma-aminobutyric acid (GABA), acetylcholine (Ach), dopamine, noradrenaline (NA) and serotonin (5-HT). Endocannabinoids are removed from the extracellular space by cannabinoid transporters.
Cannabinoid receptor system
Cannabis is a complex plant with over 400 chemical entities of which more than 60 of them are cannabinoid compounds, some of them with opposing effects. Cannabis is also the most widely used illicit drug in the world and its use has been associated with various mental health problems, particularly in the young [Hall and Degenhardt, 2007; Degenhardt et al. 2010]. Despite the links made between its use and the development of mental health problems, it is also known that not everyone who uses it is affected adversely in the same way. In this article we will provide an overview of the different effects of the two main compounds of the plant, as well as its effects upon different sections of the population. Before presenting the available evidence in the literature on the reasons for the varying effects of cannabis in different individuals, we will first review the present knowledge on the biochemistry of the cannabis plant and the endocannabinoid system.
Introduction
CB1Rs are mainly in the brain, particularly in the substantia nigra, the basal ganglia, limbic system, hippocampus and cerebellum, but are also expressed in the peripheral nervous system, liver, thyroid, uterus, bones and testicular tissue [Russo and Guy, 2006; Pagotto et al. 2006; Pertwee, 2006]. CB2Rs are mostly expressed in immune cells, spleen and the gastrointestinal system, and to some extent in the brain and peripheral nervous system [Izzo, 2004; Pertwee, 2006]. Interestingly, both CB1 and CB2Rs are also found in human placenta and have been shown to play a role in regulating serotonin transporter activity [Kenney et al. 1999]. Indeed further research has revealed that the endocannabinoid system also plays a significant role in various aspects of human reproduction [Taylor et al. 2010].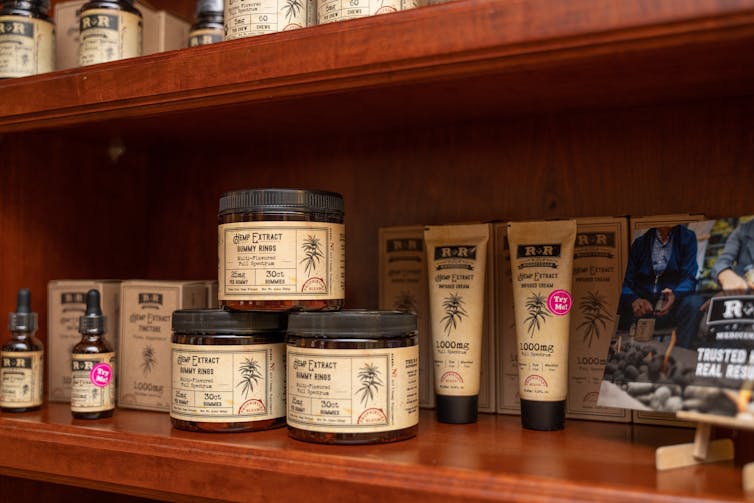 "Broad spectrum" CBD typically contains at least three other cannabinoids, as well as some terpenes and flavonoids – but still no THC. "Full spectrum" CBD, also called "whole flower" CBD, is similar to broad spectrum but can contain up to 0.3% THC.
Note that CBD oil is different from hemp oil – which comes from pressing cannabis seeds, and may not contain CBD – and hempseed oil, which is a source of essential fatty acids and contains no CBD. It's a nutritional supplement, more like fish oil than CBD oil.
CBD is a compound found in cannabis. There are hundreds of such compounds, which are termed "cannabinoids," because they interact with receptors involved in a variety of functions like appetite, anxiety, depression and pain sensation. THC is also a cannabinoid.
Hemp, marijuana and cannabanoidals
Another big difference among hemp, marijuana and CBD is how the law treats them.
Michigan State University provides funding as a founding partner of The Conversation US.
Retail CBD
One would assume, then, that hemp-derived CBD should be federally legal in every state because the THC levels don't surpass 0.3%. But CBD occupies a legal gray area. Several states, such as Nebraska and Idaho, still essentially regulate CBD oil as a Schedule 1 substance akin to marijuana.
CBD comes in food, tinctures and oils, just to name a few. Here are some commonly used terms used to describe CBD products in the store.