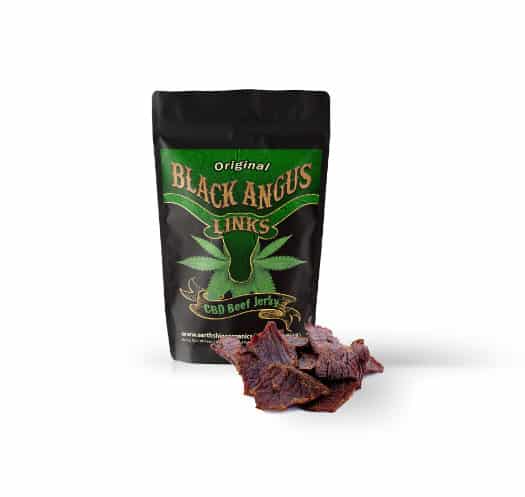 Earthshine Organics products are made with 99.9% CBD isolate, with less than .03% THC, all from naturally derived and sustainable hemp. Earthshine Organics prides themselves on making hemp based edibles that are long lasting and fit the bill for a number of healthy eating diets. Beware if you have a corn or soy allergy, because there are small amounts of both in this jerky.
Featured CBD Brands:
Jerkules makes their lab results available, offering customers full transparency about the quality of both the beef and the cannabis. One bag of Jerkules beef jerky in either size is an adequate dose to gain a therapeutic impact from CBD oil, including support for anxiety and depression, inflammation, back pain, and chronic pain, among other health benefits. When trying CBD products it is good to experiment with a few different vehicles and dosages to find a good fit for your body. Why not start with beef jerky?
2. Earthshine Organics – Black Angus Links
I'm not quite sure why beef jerky is so ubiquitous. I imagine it's popularity stems from the fact that It's the kind of thing you can shove in your purse, backpack, or glove compartment for the moments you need a protein pick-me-up.
Holistic Healers has a lot to choose from when it comes to CBD edibles. They have made a name for themselves when it comes to high quality ingredients and wholesome products. All of their CBD oil infused edibles have have been lab tested for heavy metals and quality control. Just remember that edibles take longer than other forms of cannabis to kick in. So, if you don't feel the anti inflammatory impact of the CBD right away, give it some time before taking more.
Table of Contents
It lasts a long time and does not need to be refrigerated. It is salty like a potato chip but much more substantial, and can satisfy a few cravings in one go. Recently I saw a blueberry flavored beef jerky at a 7/11 and made a comment about what different times are these. Well, beef jerky has just gotten even more cutting-edge and maybe even more innovative now that it has cropped up as one of the foods that is becoming a popular vehicle for CBD oil.
They are all made in small batches, ensuring quality control and freshness. They use all non GMO ingredients that are free of preservatives and MSG. Also, there is no THC in the product. This is a great snack for action packed essential amino acids and protein.
Preheat oven to 250 degrees F (121 degrees C). Grind and Decarboxylate Cannabis, combine with olive oil in small oven proof bowl. Cover tightly with foil. Place in oven for 2 hours undisturbed.
Transfer and arrange beef slices in a single layer on the prepared wire rack on the baking sheet. Leave as much marinade as possible on the meat. (This will lengthen drying time but will maximize potency.)
Ingredients
Preheat oven to 175 degrees F (80 degrees C) or 150 degrees F if you have a convection oven. Line a baking sheet with aluminum foil and place a wire rack over the foil or wrap foil around the bottom rail of oven rack to create a drip pan with air between the rack and the foil.
* You can use turkey, salmon and other meats, feel free to experiment.
Directions
Do you know how many mg of thc you have in the finished infused oil? I'm trying to properly dose my patients…
Our hemp is sourced right here in the U.S. – Our pet treats are no different. Kurativ pet jerky treats are made from U.S.D.A certified meats that are never imported. We formulate each treat with at least 5mg of pure CBD Isolate. We've never met a pet that turned one down! Beef and chicken jerky are available in 100mg pouches.
CBD Extract, Beef, Rye Flour, Soy Flour, Corn Syrup, Soybean Meal, Corn Gluten Meal, Corn Starch, Propylene Glycol, Salt, Flaxseed, Calcium Sulfate, Caramel Color, Phosphoric Acid, Potassium Sorbate (Used as a Preservative), Garlic Powder, Natural Smoke Flavor, Vitamins (Vitamin E Supplement, Vitamin A Supplement, Niacin Supplement, D-Calcium Pantothenate, Riboflavin Supplement, Pyridoxine Hydrochloride, Thiamine Mononitrate, Vitamin D3 Supplement, Folic Acid, Biotin, Vitamin B12 Supplement, Folic Acid, Zinc Oxide, Manganous Oxide, Copper Sulfate, Calcium Ioadate, Sodium Selenite) , Minerals (Ferrous Sulfate, Zinc Oxide, Manganous Oxide, Copper Sulfate, Calcium Iodate, Sodium Selenite) BHA (Used as a Preservative), Onion Extract.
Give Dog 1-2 treats (5-10mg) as needed, or as directed by your pets vetenarian. Dosages may vary greatly by pet.