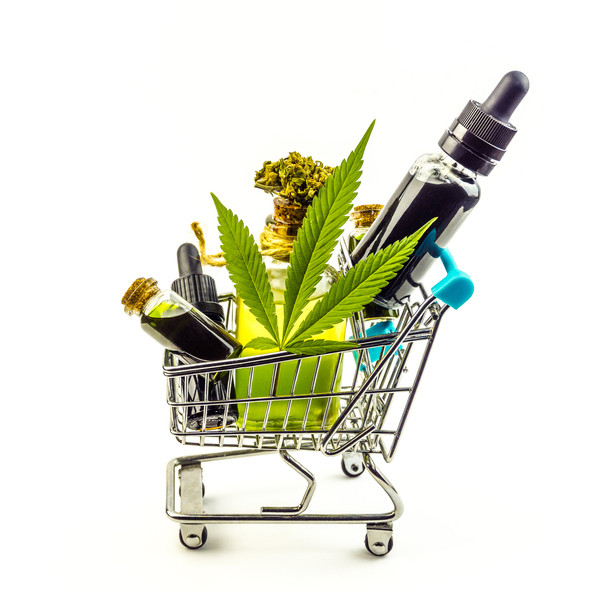 If you ask health care providers about the most challenging condition to treat, chronic pain is mentioned frequently. By its nature, chronic pain is a complex and multidimensional experience. Pain perception is affected by our unique biology, our mood, our social environment, and past experiences. If you or a loved one is suffering from chronic pain, you already know the heavy burden.
People are looking for novel, nonaddictive ways to treat pain
So far, pharmaceutical CBD is only approved by the FDA as adjunct therapy for the treatment of a special and rare form of epilepsy. Currently, CBD alone is not approved for treatment of pain in the United States. But a combination medication (that contains both THC and CBD in a 1:1 ratio) was approved by Health Canada for prescription for certain types of pain, specifically central neuropathic pain in multiple sclerosis, and the treatment of cancer pain unresponsive to optimized opioid therapy. There is currently no high-quality research study that supports the use of CBD alone for the treatment of pain.
Why is CBD presented to the public this way, when it is not without risks?
Given its promising results in animal models, along with its relative safety, non-psychoactive properties, and low potential for abuse, CBD is an attractive candidate to relieve pain. Unfortunately, there is a lack of human studies about the effectiveness of CBD. However, there is an abundance of commercial advertisements about the magical effects of CBD, and it is frequently presented as a cure-it-all potion that will treat everything including diabetes, depression, cancer, chronic pain, and even your dog's anxiety!
Conclusion: Our findings demonstrate that the transdermal application of CBD oil can achieve significant improvement in pain and other disturbing sensations in patients with peripheral neuropathy. The treatment product was well tolerated and may provide a more effective alternative compared to other current therapies in the treatment of peripheral neuropathy.
Results: The study population included 62.1% males and 37.9% females with a mean age of 68 years. There was a statistically significant reduction in intense pain, sharp pain, cold and itchy sensations in the CBD group when compared to the placebo group. No adverse events were reported in this study.
Methods: In total, 29 patients with symptomatic peripheral neuropathy were recruited and enrolled. 15 patients were randomized to the CBD group with the treatment product containing 250 mg CBD/3 fl. oz, and 14 patients were randomized to the placebo group. After four weeks, the placebo group was allowed to crossover into the treatment group. The Neuropathic Pain Scale (NPS) was administered biweekly to assess the mean change from baseline to the end of the treatment period.
Background: Peripheral neuropathy can significantly impact the quality of life for those who are affected, as therapies from the current treatment algorithm often fail to deliver adequate symptom relief. There has, however, been an increasing body of evidence for the use of cannabinoids in the treatment of chronic, noncancer pain. The efficacy of a topically delivered cannabidiol (CBD) oil in the management of neuropathic pain was examined in this four-week, randomized and placebocontrolled trial.
Keywords: CBD; cannabis sativa; diabetic neuropathy; hemp; nerve pain; review..
Meanwhile, several countries have approved CBD to treat certain conditions. For instance, the United Kingdom approved it for multiple sclerosis, and Canada approved it for cancer pain. Ongoing research suggests CBD oil for pain can aid medical conditions, including arthritis and fibromyalgia, at varying doses. Some pain may not be treatable by CBD alone, but it can help when paired with THC or Western medication applications.
An earlier study also found CBD to be effective in chronic pain relief for conditions like multiple sclerosis and spinal cord injury, although across a much smaller sample size [4] Wade DT, Robson P, House H, Makela P, Aram J. A preliminary controlled study to determine whether whole-plant cannabis extracts can improve intractable neurogenic symptoms. Clin Rehabil. 2003;17(1):21-29. .
CBD for Pain Relief
Getty Creative
CBD for Chronic Pain
Meanwhile, a small 2019 trial suggests a mix of CBD and THC may prove beneficial for people with fibromyalgia, a type of arthritis that results in whole-body pain and fatigue [11] van de Donk T, Niesters M, Kowal MA, Olofsen E, Dahan A, van Velzen M. An experimental randomized study on the analgesic effects of pharmaceutical-grade cannabis in chronic pain patients with fibromyalgia. Pain. 2019;160(4):860-869. . The study found that, via a single inhalation, a CBD-THC solution performed better than a placebo and either substance on its own.