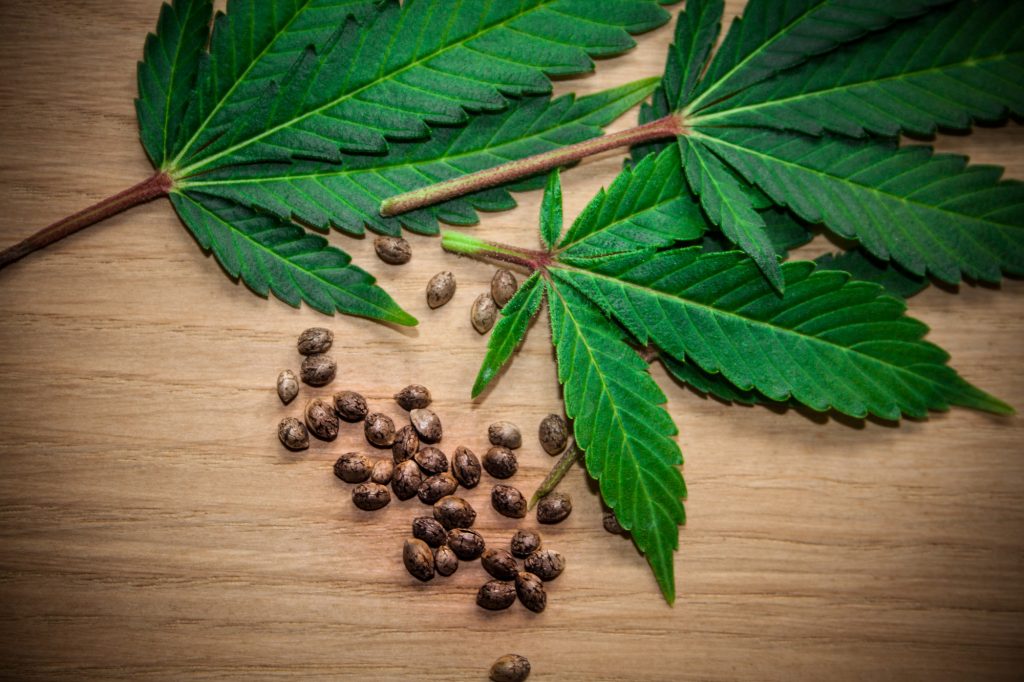 If you search "hemp seeds" into Google, you're going to find two different kinds of results. Nutritional hemp seeds (available worldwide) and hemp seeds are intended for growing hemp plants at home.
Both plants are technically the same species — Cannabis sativa. This means they have the same genetic makeup. The difference is in how each of these plants expresses those genes.
Nutritional hemp seeds have been processed — usually having their outer shell removed and roasted. These seeds are rendered sterile from this process and can not be used for growing.
Growing your own cannabis (both hemp and marijuana) can be extremely rewarding — but getting a good crop relies on starting with high-quality seeds.
Hemp vs. Marijuana
Conversely, marijuana is considered any cannabis plant that makes more than this 0.3% threshold of THC. Not all marijuana plants have enough THC to make you high — but most of them do.
Marijuana is illegal to sell, possess, and grow. If you're looking to order marijuana seeds, make sure you're familiar with your local laws before you order. While the seeds themselves aren't illegal, they become highly illegal as soon as they sprout into a living plant. These plants are classified as a Schedule I drug in the US, which means mandatory jail time.
In order to classify as hemp, a strain needs to produce less than 0.3% THC by dried weight. This is well below the psychoactive threshold — meaning that no matter how much hemp you consume, you're not going to feel high.
Table of Contents
While there are a few differences in these plants' growth habits, what it all boils down to is the THC (tetrahydrocannabinol) concentration. Hemp plants produce almost no THC — which is the psychoactive constituent that makes users feel high.
Growing hemp & marijuana at home can be rewarding — but it's critical you start with quality seeds.
Not only are CBD Strawberry Kush seeds easy to grow, but the flowers are potent and delicious. Cultivators of all skill levels must have a pack of CBD Strawberry Kush seeds on hand when they are ready to experience the magnificence of cannabidiol.
Overall, your personal preference will determine which CBD seeds you buy. However, you must take the rest of the criteria into mind before buying CBD seeds.
Value for Money and Effort
CBD Black Domina is a beginner-friendly strain, and you'll be shocked by the purple and black hues that occur near harvest time. The medium-sized plants of CBD Black Domina are ideal for both indoor and outdoor growth.
Grow Difficulty
Only you can determine something's value. In this case, you must determine if a CBD strain is worth your time and money.
This strain is a great pick for anyone that needs extra strength effect and relief from aspects related to pain, inflammation, stress and sleep.
It's called the Hulk CBD hemp flower for a good reason. This strain packs a punch at more than 15% CBD. It's super high in THC for a hemp flower strain and features predominantly sativa dominant genetics.
This long-time favorite strain in non-psychoactive CBD flower form has a great pungent fuel aroma accompanied by richly satisfying coffee and chocolate notes upon exhale.
7. Cherry Creme Brulee CBD Hemp Flower
Overall, this is a great choice for those seeking strong body relief from aches and pains, alongside mood-boosting and appetite-stimulating properties.
Today we're running down the most popular CBD hemp flower strains going into 2022.
9. Gorilla Glue CBD Hemp Flower
Harlequin is close to its origins, meaning its genetics haven't been hybridized much from their original form.
Harlequin is a long-standing favorite among CBD hemp flower lovers and connoisseurs. It exhibits a beautiful dark green color with dark red harris.