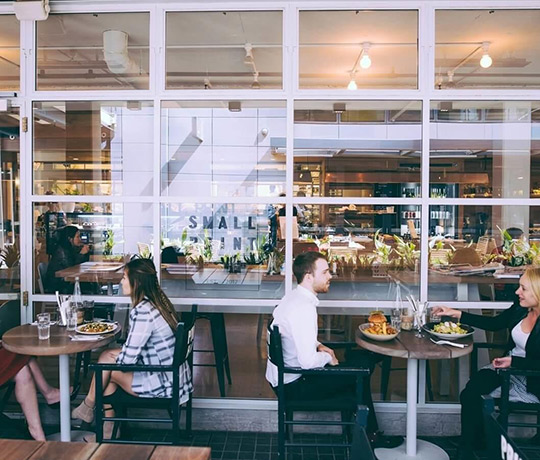 Small Print has a different menu for each mealtime to introduce that variety and food diversity. They have your typical bircher muesli, eggs on toast and waffles for breakfast, but by the time lunch rolls around from 11.30am-3pm there's brisket burgers and prawns on artisan sourdough bread. Yum. Another must for coffee lovers, Small Print prides themselves on their history in the Perth micro-roast scene and gives high priority to the quality of their pour-overs, espressos, batch brews and so on. Small Print is just one of the food venues in Print Hall, so for different times of the day you can pop in to 'Main Bar,' for a drink, 'Gazette,' for the Italian restaurant or 'The Apple Daily' for South-East Asian dining.
Ah, brunch. A necessary food group and every Aussie's favourite meal of the day. The make-or-break of any city is the quality of its brunch spots, and that's just science. Luckily, Perth has the breakfast game on lock, with all kinds of cafes and offerings in and around the city that aren't just your run-of-the-mill smashed avo. Focusing on the city centre – because that's where all the Perth hubbub is, and you shouldn't have to travel far to have your morning cravings satisfied – here are our top picks for breakfast in Perth CBD.
Right near the courts and in the restored State Buildings, Petition Kitchen is headed by renowned chef Sean Bentley and offers a familiar breakfast menu because hey, if it ain't broke, don't fix it! There's takeaway options like muesli, pastries, smoothies and sandwiches, as well as some fancier picks like slow-cooked octopus with kimchi or coconut ceviche if you're more in the mood for some fine-dining. It's a super elegant space with exposed brickwork, so it's no wonder it's so popular with all the nearby legal workers.
4/70 Aberdeen St
Perfect for the first meal of the day and the last, Gordon Street Garage cafe offers house-roasted coffee and the likes of salted caramel pancakes in the morning as well as wine-and-dine vibes by night. It's a surprisingly large, two-storied space, decorated with upholstered bus seats, distressed floors and fun wall scribbles – definitely an eclectic spot, and very industrial-chic. They've got the best eggs benedict in town, and have nailed handling the throngs of people that come in to indulge. Definitely a great place to kick off your daily tasks, especially if you can nab a spot in the backyard garden.
Photo | @sus-ten-ance
90 King Street
Photo | Food Cravings
Perth is winning the breakfast and brunch game, and you can find some of the best eggs, pancakes, waffles and coffees right in the CBD. Here are our favourite Perth brunch spots!
From the genius that brought us Hylin in West Leederville, Laika Coffee in Lathlain is dishing up amazing brunches and even better coffee—they roast their own on site—alongside Pilates classes and a basketball court. They've got loads of classic dishes that'll hit just the spot, but it's the breakfast pasta for us—gluten free pasta served with bacon, broccolini, egg yolk, chilli and more.
Follow the coffee snobs to this industrial-chic coffee house on King Street. Exposed brick and lashings of wood create a relaxing urban atmosphere for the savvy King Street crowd. Five Senses coffee and a delectable breakfast menu are further proof that Perth cafe, La Veen, knows its inner-city audience well. So well in fact that they've opened up a second store in Raine Square too, but it's the heritage beauty of the OG that has our heart. Our tip: just get the potato rosti.
If there is one thing we're equally proud of as our glittering coastline, it's our love for good coffee, beautifully crafted breakfasts and the humble weekend brunch. Narrowing down the haunts that are serving some of the best breakfasts in Perth hasn't been an easy task, yet here they are—a swag of Perth cafes you should have been to by now. Just visiting? Welcome! Make this your hit list.
After spending more than a decade living in New York, Soho Lane owners Matt Miller and Trindy Adler are all about building inviting community spaces where everyone feels right at home, and this stunning pink-hued laneway spot delivers just that. In the kitchen they're also providing a nod to New York, offering hangover-friendly dishes like fried chicken and waffles alongside all-day brunch classics.
Lathlain
Part sleek design store, part cool cafe, Arrival Hall is serving up some of the most aesthetically pleasing plates around Perth. You won't find any eggs benny or big breakfasts here, though. The menu is sophisticated, refined and packed full of unique flavour combos that will surprise and delight with every bite. If you're chasing a piece of edible art, you can't go past their Jerusalem artichokes and avocado on toast—it's one of the most 'grammable brekkies we've ever cast our eyes on.
Keen to head to one of Perth's latest and greatest spots? Check out Perth's best new openings.
We've got you covered from north to south, east to west with the best breakfasts in Perth.
Chubby Boy
Go for a stroll along the suburban streets of South Perth and you might find yourself on the doorstep of The Little Banksia. Here, the coffee is mighty fine and the brekky offerings are next-level. We recommend the nasi goreng, smashed avo and pancakes or anything and everything on their menu! Plus, their pastries and cakes are to die for if you're looking for something small to nibble on as you enjoy the tasty coffee or tea.
Local & Aesthetic has to be one of our fave openings of last year. Its laid back community vibes and WA-centric menu is bolstered by the fact the space is also home to Rhubarb Records vinyl and an Indigenous art gallery and retail outlet. As for what to eat, if the special doesn't entice you the house cured salmon on rye with whipped lemon-myrtle feta is as pretty as she is tasty, and their take on the humble brioche pudding complete with milk and honey brioche, lemon and finger lime curd, roasted white chocolate and shaved macadamias might just be the dessert-lovers ideal breakfast.
Where: 18 Leighton Beach Blvd, North Fremantle
Sayers Sister
You can now close this dialogue.
Get of out bed for Perth's best breakfasts
Where: 1 Cathedral Ave, Perth