Get perks like local deals, new strain spotlights, and a free jar of CBD:THC gummies when you sign up ($59 value)!
All Alpine products are held to the highest quality control and testing standards to ensure that we deliver a clean and consistent experience every time. We test every batch using advanced high-pressure liquid chromatography (HPLC), which allows us to fine tune the balance of cannabinoids and terpenes in our products with the utmost precision. For extra safety, we also submit every batch to SC Labs to verify that our products are 100% free of solvents, pesticides, and other impurities.
The Alpine Vapor mission is to produce the purest, safest and most discreet cannabis products on the market. We pair cutting-edge distillation technology with beautiful and accessible design to serve the full spectrum of cannabis enthusiasts, from first-time patients to experienced connoisseurs. We want to raise the bar for cannabis-infused goods and provide the world with An Elevated Experience™.
By providing us with your email address, you agree to Leafly's privacy policy and terms & conditions.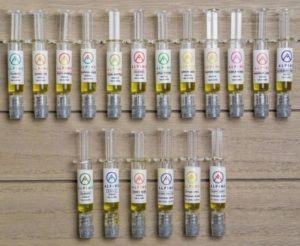 Alpine Vapor's disposable pens test at around 40% THC and last for over 150 puffs . They come in three flavorful options: sativa, hybrid, and indica. Because of their extraction and purification techniques, you can expect incredibly pure flavor without the harsh lung irritation. One pen will cost about $25, a solid deal for a solid product.
These quality, potent live resin syringes are well worth the investment. For around $55-$60 per gram , you get a concentrate that tests at around a whopping 75% THC . Solvent-free live resin with such a high percentage is hard to find. Their price and quality are an unmatched combo.
Products
Their CBD blends promote a clear-headed high great for all-day use, especially for those who want the medical perks without the overwhelming high.
Medicated E-Liquid Syringes
Alpine Vapor takes pride in producing the purest, safest, and most discreet marijuana products available in California. Their carts, syringes, and pens are made with all cannabis consumers in mind, from experienced medical marijuana patients to newbies. The company's cutting edge technology and dedicated attention to detail create perfectly dosed concentrate-based products that taste amazing and deliver serious results.