From late November 2015, 8Bit Melbourne CBD will be open for lunch, dinner and late night burger fixes. Shayne McCallum, the brains behind the Footscray burger bar, plans to open at 11am, seven days a week, serving until as late as burger fans want. Melbourne, your post-bar snack options just got a hell of a lot better…
Given the new 8Bit restaurant's tiny central location, you can expect far more takeaway burgers that dine-in meals, but the venue will still offer a small dining area for around 20 lucky burger fans who are in need of a seat. And, as expected, the menu will contain some of the juiciest burgers in the city—no toppings spared!
Footscray favourite 8Bit is opening a new burger hot spot, this time in Melbourne CBD. The home of some of the best burgers in Melbourne is set to take over a cute corner restaurant space on Swanston and Little Bourke. Praise be to our double patty overlords!
Get all the info on Footscray's 8Bit burger restaurant here, and watch this space for details, folks.
Check out 8Bit's loaded fries in our Fave 5 Loaded Fries round-up.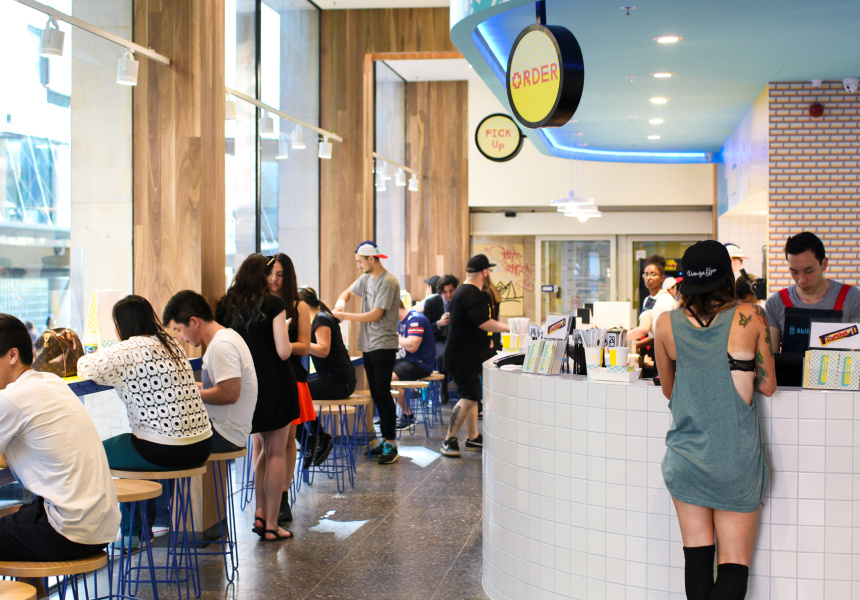 The Footscray location was frantic from the day it opened, but this spot is even more geared towards takeaway, or a very brief sit-down. There are blue-and-yellow Nintendo graphics on the walls, in keeping with the theme.
The CBD store is also slicker on the whole. Instead of peeling paint and exposed brick, there are polished terrazzo tiles on the floors and gleaming white tiles.
8bit in the CBD has the same menu as its older sibling in Footscray. In addition to beef, fried-chicken and crumbed-mushroom burgers, the kitchen churns out classic artery-cloggers such as fries, shakes, dogs, tater tots and soft serve.
We do not seek or accept payment from the cafes, restaurants, bars and shops listed in the Directory – inclusion is at our discretion. Venue profiles are written by independent freelancers paid by Broadsheet.